Organise asbestos air monitoring for your property in Sydney, NSW
Asbestos air monitoring is crucial to your health and safety. Airsafe are a leading asbestos air monitoring company servicing New South Wales, from Sydney to Newcastle. If you're in a rush, we can often get asbestos air monitoring equipment installed on site within hours. Just call us on 1300 888 338 today.
Air monitoring is legally required if you're removing friable asbestos (the most dangerous kind). But we recommend air quality monitoring for all asbestos removal: it doesn't cost a lot, and it gives you and your neighbours real peace of mind.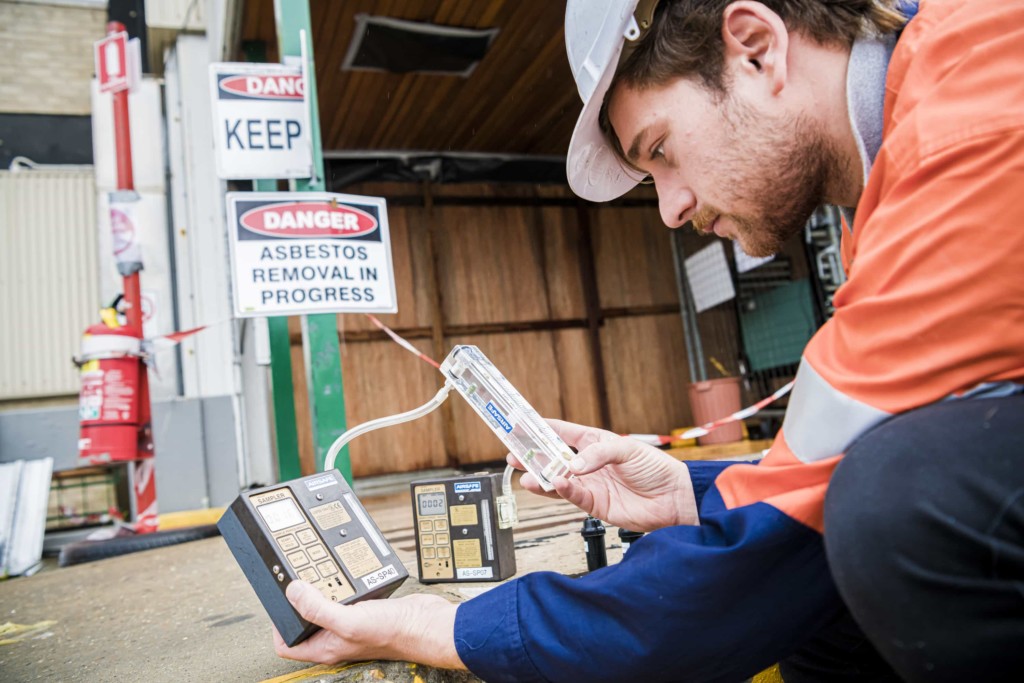 Asbestos air monitoring is very important if you have plans to remodel or renovate your home, especially if you're working with asbestos-containing building materials that are damaged or have deteriorated over time. The more damaged the material, the more chance that asbestos fibres might be released into the air.
Airsafe is one of Sydney's most respected providers of airborne asbestos fibre monitoring services. With over 30 years' experience in asbestos, our monitoring reports carry real authority throughout the industry. We work closely with your demolition or asbestos removal contractors to get the job done safely and efficiently.
Our asbestos air monitoring process
A typical asbestos air monitoring process with Airsafe goes like this:
Give us a call on 1300 888 338.
Our consultant will discuss your details and provide a quote.
One of our fleet of inspection vehicles will be dispatched to your home, anywhere in Sydney.
Specialist consultants will set up air monitors in relevant areas.
At the completion of the sampling period, testing is carried out in our NATA-Accredited lab.
A test report detailing results of asbestos air monitoring is issued within 24 hours.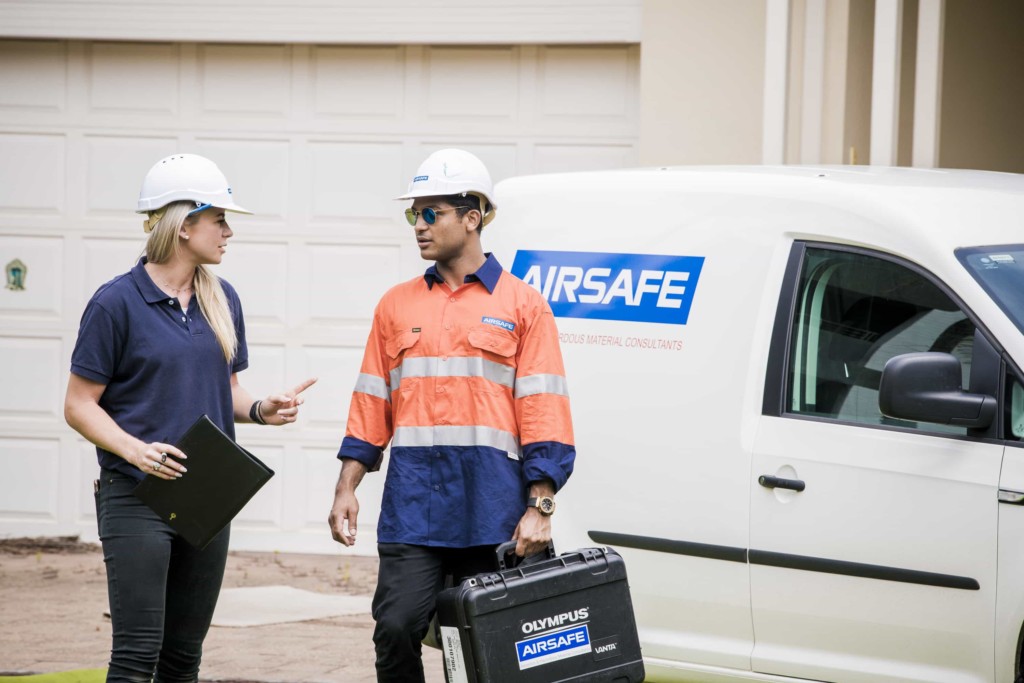 Adherence to asbestos legislation
In recent years, new Work Health and Safety (WHS) Asbestos Regulations have harmonised Australia's licensing, training and competency arrangements for workers involved in asbestos testing and removal. In accordance with these regulations, an asbestos assessor licence is now required to undertake air monitoring, clearance inspections or the issuing of clearance certificates for class A asbestos removal work.
To be eligible for this licence you must be able to demonstrate that you have carried out training (or have adequate experience) in the asbestos removal industry over the past two years. Airsafe is accredited by NATA (the National Association of Testing Authorities) for asbestos air monitoring. We comply with the requirements of AS ISO/IEC 17025-2005, legislation that governs the general requirements for the competence of testing and calibration laboratories. Our asbestos air quality monitoring is carried out in accordance with the requirements of the Work, Health and Safety Regulations 2011.
Licensed Asbestos Assessors in Sydney, NSW
From 1 July 2013, air quality monitoring for friable asbestos removal works must be done by a Licensed Asbestos Assessor. Airsafe has Licensed Asbestos Assessors available anywhere in Sydney, so contact us to ensure you comply with your legal obligations.
The process of air monitoring involves sampling airborne asbestos fibres to assist in assessing exposure to asbestos and the effectiveness of implemented control measures. In this way, air monitoring improves a homeowner's understanding of the potential levels of asbestos pollutants on their premises.

Information gathered during the air monitoring process can be used to determine whether or not the risk of asbestos has been removed from the home entirely. By law, asbestos air monitoring must be conducted in accordance with the Guidance Note on the Membrane Filter Method for Estimating Airborne Asbestos Dust.

As a general rule, air monitoring requirements will vary depending on the type of asbestos being removed, as well as the location and position of the asbestos in your home. Other factors such as whether or not an enclosure is used during renovations, and whether the asbestos removal work is carried out within a building or outside, will also contribute to the decision making process.

When considering whether or not you need air monitoring in your home, it's important to remember the following guidelines which have been adapted from those supplied by SafeWork NSW.

Friable asbestos removal

In accordance with government regulations, air monitoring is mandatory for all friable asbestos removal in the home. This includes prior to dismantling an enclosure (that may have been used during removal) and for the purposes of the clearance inspection.

More than 10m2 of non-friable asbestos removal

When you are dealing with more than 10 m2 of non-friable asbestos, air monitoring is not required. However, air monitoring by an independent licensed asbestos assessor or competent person is still recommended, in order to ensure compliance with the duty to eliminate or minimise exposure to airborne asbestos.

Public location

It is strongly advised that air monitoring should be considered where the asbestos removal work is being undertaken in or next to a public location. If you live in an apartment complex with communal areas, or if your home is situated next to a public park or playground, you should consider carrying out air monitoring to ensure that your family and your neighbours are safe.

Exposure air monitoring

WorkSafe advises that air monitoring should be carried out to determine a person's exposure to airborne asbestos, if there is uncertainty as to whether the exposure standard may be exceeded and a risk assessment by a competent person indicates that it is necessary. However, since most uses of asbestos are prohibited in the workplace, as well as in the home, exposure monitoring should not be required frequently.

Air monitoring may be required when:

it is unclear whether new or existing control measures are effective
there is evidence (for example, dust deposits around the home) that the control measures have deteriorated as a result of poor project maintenance
modifications or changes in safe work methods have occurred that may adversely affect a worker or removalist's exposure
there has been an uncontrolled or unforeseeable disturbance of asbestos in the home.

The most obvious benefit of air monitoring is that it gives you peace of mind knowing that you and your family haven't been exposed to asbestos during the removal process.

However, there's another less obvious benefit: it also puts your neighbours' minds at rest. Even if air monitoring isn't legally required, your neighbours aren't likely to be interested in the technical distinction between friable and non-friable asbestos. Air monitoring gives them something you can use to prove that you haven't compromised their safety. This protection is especially important to have in case of legal action at any time in the future.

Back in our state-of-the-art laboratory, one of our asbestos experts undertakes a meticulous, detailed analysis of the samples that have been taken using air monitoring equipment.

The analysis involves examining each sample under a microscope and counting any fibres present. It's a painstaking process: we have to look at up to one hundred different areas on each slide!

Once we've examined the slides, we do a standard calculation to determine whether the number of fibres present (if any) is above the "reporting limit".

Typically, our laboratory staff repeat this process for several different samples — the exact number depends on the size of the site.

Based on this analysis, you will receive a full report stating:

Where each sample was taken from, and when
How many fibres (if any) were found in each sample
The concentration of fibres (expressed as Fibres/mL)
A breakdown on the sampling methodology
Notes on any environmental conditions during the sampling process
A summary of the results.

No, you can't. Asbestos air monitoring is a highly technical process, requiring specialised equipment and properly trained staff both on site and back in the laboratory.

When it comes to matters involving asbestos in the home, many people look for ways in which they can test for the material themselves, in order to try to save both time and money. However, to ensure that your home is free from potentially dangerous, airborne asbestos particles, an independent licensed asbestos assessor such as Airsafe must be employed to undertake air monitoring within the asbestos removal area.

Exposure to airborne asbestos particles is the greatest risk to a person's health. If asbestos or asbestos containing materials are disturbed during renovations, asbestos fibres may become airborne, leaving homeowners and their families (and it some cases, their neighbours) at risk of inhaling the dangerous particles.

These particles remain in the lungs and, over time, can cause disease. The likelihood of a person developing an asbestos-related disease depends on how much asbestos they were exposed to and for how long.

As DIY home improvements spike in popularity, more and more renovators are becoming unknowingly exposed to airborne asbestos particles in the home.