Lead paint or dust removal process
Before the lead paint removal process takes place, Airsafe will inspect your property using our state-of-the-art Olympus Vanta XRF analysers, to determine the location and condition of all hazardous paint and dust containing elevated levels of lead.
The lead dust or lead paint removal itself is done with the utmost care to prevent the spread of toxic material. Lead poses a risk if it becomes airborne, but also if deposited on soil or footpaths, from where it can be carried into other houses or nearby buildings.
Our lead abatement contractors' removal processes are compliant with the industry's best work practices. Removal equipment is state-of-the-art, to ensure the removal works are safe and comprehensive.
Airsafe manages the whole process, up to and including the safe handling and disposal of the hazardous material. You will be issued a certificate from the Waste Transfer Station where the lead has been disposed of according to regulations. If needed, air monitoring is conducted both before and after removal.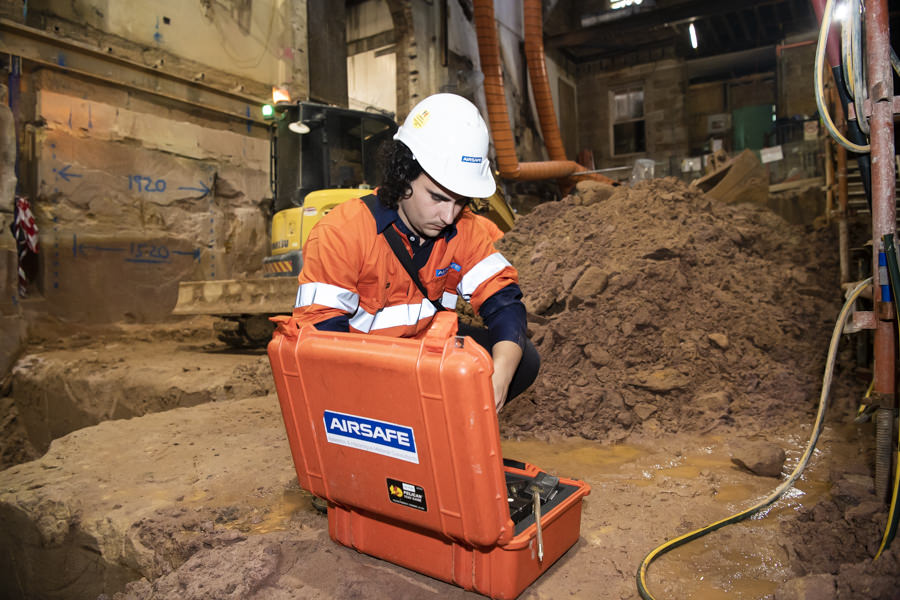 It's especially important to engage a qualified lead abatement contractor for larger projects, defined as those that involve disturbing or removing more than 10 square metres of surface area in a 12 month period, whatever the building type.

Disturbing or removing lead paint from residential, public and commercial buildings will create a hazard. For the health and safety of occupants, buildings must be cleared of all lead residue prior to returning the building to its former use.

Because this work carries a high risk, contractors must have the necessary competence to undertake the scope of work, with no negative impact on the internal and external environment.

Contractors should be able to demonstrate that they are competent to carry out the required work in compliance with all applicable work health and safety requirements.

Airsafe can project manage the removal of dust containing elevated levels of lead from all types of buildings, from residential projects to industrial sites. Our lead abatement contractors will ensure remedial works are completed in time and on budget.

Whether the lead paint is on timber, steel or concrete, our lead abatement contractors will approach its management from a practical perspective and offer solutions for its removal by following best practices.

If your home was built before the 1980s it may contain white lead (lead carbonate) – a common white pigment used in paint for Sydney homes before 1980, which contains more than 1% lead.

Before 1980, white lead paint was mainly used on exterior building surfaces, interior doors and architraves, in houses throughout Sydney. Undercoats and primers often contained as much as 20% lead.

Red, yellow and orange lead-chrome pigments were also used on interior walls but were less common.

When refitting your house, it's important to remember that lead paint might not be on the surface. Layers of lead paint are often covered with layers of more recent paint.

If your home was built from the 1980s onwards your painted surfaces are much less likely to contain lead.

However, we've tested some samples from post-1980s homes in Sydney where previous owners have used paints with high concentrations of lead.

If you have any suspicion at all that you have found lead, have a paint sample tested by Airsafe.

Lead deposits are often found as dust in ceiling spaces in Sydney homes, or in soil. Lead in dust or soil is often there as a result of previous renovations, but it can also be due to:

Atmospheric deposits (e.g. from previous lead petrol use)
Lead residue from nearby industrial sites (e.g. smelters)
Other lead paint removal projects nearby

If you suspect you may have found lead in dust or soil in your Sydney house, it's important to have a sample tested straight away.