Contaminated Land
If you require a contaminated land assessment, contact Airsafe.
Questions? Call 1300 888 338
The highest standards in technical expertise, customer service and quality assurance.

Why choose Airsafe?
NATA accredited

Airsafe's asbestos testing lab is accredited for asbestos fibre identification by NATA, the National Association of Testing Authorities.

Rapid response

When hazardous materials are suspected, we understand it's important to get an answer quickly.

Cost-effective

We charge a single, low flat fee per sample tested. It's the same price per sample whether you're having one sample tested or 10.
Contaminated Land Assessments
As one of NSW's most experienced work health and safety consultancies, we have many years' experience dealing with sites with difficult or complex contamination issues. We are familiar with and comply with relevant guidelines including the National Environment Protection (Assessment of Site Contamination) Measure.
Find out more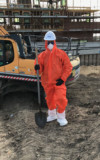 Need a

rapid response

?

Contact us for assistance with identifying hazardous materials, investigating contaminated land, undertaking air quality testing to quantify risks, and developing your risk management plan.

Airsafe always places your health as the highest priority.

Call us on 1300 888 338

"We have worked closely with Airsafe over many years. We have found their service to be very professional and good value. Airsafe's staff have always gone the extra mile to keep us happy – and more importantly, to keep our clients happy. Thanks Airsafe!"
Simon Brown
Interdemo
"We use Airsafe because they have always been able to meet our business needs with a high degree of professionalism and service. We consider Airsafe to be an integral part of our business strategic alliance."
Laila Manassa
CFO, Mann Group NSW
"We have used Airsafe for Environmental Consultancy, Hygiene and Hazardous Materials management for over a decade. Airsafe's expertise has become essential to our management processes. I thoroughly recommend them."
Lee Albert
Counsel's Chambers Limited
"Airsafe's quote came through quickly, was very competitive, and the asbestos survey and report were completed very promptly. I would highly recommend Airsafe to anyone in need of an asbestos survey."
Jackie Tan Showyin
"I found Airsafe to be reliable and knowledgeable in the industry. Their consultants are pleasing to deal with and accommodating to our needs. The reports they produce are of a high standard and well written."
Kara Basso
Endeavour Energy