Vibration: what is it?
The effects of vibration on buildings can be divided into the following main assessment categories:
Those in which the occupants or users of the building are inconvenienced or possibly disturbed ('tactile vibration')
Those where a building's contents may be affected (for example, the operation of vibration sensitive equipment such as microscopes in hospitals)
Vibration affecting the buildings and structures in terms of their susceptibility to damage ('structural damage')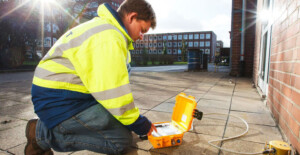 Human comfort vibration
The Department of Environment and Conservation's (DEC) Assessing Vibration: a technical guideline (2006) provides guideline values for continuous, transient and intermittent events that are based on a Vibration Dose Value (VDV) rather than a continuous vibration level. The VDV is dependent upon the level and duration of the vibration event, as well as the number of events occurring during the daytime or night-time period.
Structural damage vibration
Structural damage vibration limits are based on Australian Standard AS 2187: Part 2-2006 Explosives – Storage and Use – Part 2: Use of Explosives and British Standard BS 7385 Part 2-1993 Evaluation and measurement for vibration in buildings Part 2. These standards provide frequency-dependent vibration limits related to cosmetic damage, noting that cosmetic damage is very minor in nature, is readily repairable and does not affect the structural integrity of the building.
Where the dynamic loading caused by continuous vibration may give rise to dynamic magnification due to resonance, especially at the lower frequencies where lower guide values apply, then the guide values may need to be reduced by up to 50%.
Rock breaking / hammering activities are considered to have the potential to cause dynamic loading in some structures (eg residences) and it is therefore appropriate to reduce the transient values by 50%.
At locations where the predicted and/or measured vibration levels are greater than shown above (peak component particle velocity) a more detailed analysis of the building structure, vibration source, dominant frequencies and dynamic characteristics of the structure would be undertaken to determine the applicable safe vibration level.
Why choose Airsafe for vibration monitoring?
Airsafe can undertake vibration monitoring at your construction site following all legislative requirements.
At Airsafe, we're proud of our methodical, systematic and diligent procedures for carrying out vibration monitoring. To undertake an inspection or clearance, an Airsafe staff member must:
be completely familiar with the relevant documents
be competent in the use of all vibration monitoring equipment
be signed off by a supervisor
undergo routine reviews of all testing skills and technique
If your occupational hygienist isn't backed by rigorous procedures like Airsafe's, there's a risk that your results will not be compliant
Contact us today for a fast quote on vibration monitoring.