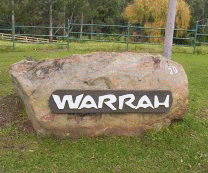 We've all seen renovation shows on TV where a home is transformed overnight. This may make for an exciting storyline, but the reality is usually different.
It was certainly different for disability services provider Warrah, who decided to renovate a number of bathrooms in their residential accommodation units. Balancing the special requirements of residents with the need to maintain independence, safety and privacy proved to be a complex task.
Fortunately, construction company Brookfield Multiplex stepped in, and rounded up nearly 100 partners to donate their services. One of those partners was Airsafe, who provided asbestos surveys, testing and air monitoring. The result: residents of the units have 17 brand new, custom designed bathrooms, and the organisation has saved around $250,000.
About Warrah
Founded in 1969, Warrah is a disability services provider located in Dural in north-west Sydney. It provides services for people with an intellectual disability and moderate to high support needs.
Warrah provides about 100 residential places for adults and 20 places for school children. The residential units occupy 30 acres in Dural, and the organisation also owns and rents other sites in nearby suburbs.
As well as residential services, Warrah offers adult day services and runs a school for students with intellectual disabilities.
The Bathroom Blitz Project
The Bathroom Blitz came about after Brookfield Multiplex chairman Ross McDiven visited Warrah and decided he wanted to do something to help update the organisation's bathrooms at their facilities in Dural, Cherrybrook and Baulkham Hills. Client needs and expectations had changed since the facilities were built 30 years ago. With some residents partially ambulant and others non-ambulant, there was a real need to upgrade the bathrooms to improve independence, safety and privacy.
Airsafe's involvement
Knowing that Warrah's facilities were several decades old and therefore likely to contain asbestos, Brookfield Multiplex asked Airsafe to help. We were happy to do so, at no charge.
Our initial work on the project involved inspecting the bathrooms scheduled for renovation. As with any other asbestos survey, we took samples of materials we suspected might contain asbestos, and analysed the samples in our NATA-accredited laboratory to determine asbestos content.
Some of the facilities did indeed turn out to contain asbestos. In those cases, Airsafe donated more of our time for air quality monitoring to make sure that contractors were safe from airborne asbestos fibres. Finally, we performed asbestos clearance inspections to confirm that it was safe for residents to start using their beautiful new bathrooms!
The results
Chris Johnson, former NSW Government Architect and now CEO of Urban Taskforce (a not-for-profit organisation that represents property developers) visited Warrah's residential complex at Dural while Bathroom Blitz was in progress. He reports on his visit:
I recently visited Warrah in the middle of the bathroom blitz. Workmen were stripping old, sub standard bathrooms to their frames while plasterers, plumbers, painters, electricians and more were rebuilding the rooms as sparkling modern bathrooms worthy of a five star hotel. In one spot you could see the old and new side by side and the Warrah staff could hardly believe their eyes at the transformation. I spoke to one of the foremen wearing a blue BM shirt who said his own son had autism and he was keen to help the people at Warrah. An incredible commitment from Brookfield Multiplex and their teams of subcontractors all contributing their time and materials for nothing for a good cause.
It's always great when tradies pitch in together. At Airsafe, we're especially happy that we were able to make a contribution to the project that ensured all these subcontractors' safety while the job was in progress.
The CEO of Wallah, Georgina Michaelis, was effusive about the Bathroom Blitz project and the difference it has made to residents:
With eight bathrooms now complete it is wonderful to see the residents enjoying and having pride in their new bathrooms. The re-design and modern renovations have made a significant difference to both our residents and our staff. Bathrooms that previously had accessibility issues or lacked circulation room for staff to easily help clients requiring assistance are now completely functional for people with disabilities. All the teams involved in Bathroom Blitz have also shown incredible good-will and generosity going above and beyond the bathroom renovations. Teams in some of the houses are now looking at re-doing the flooring and polishing the floor boards or replacing carpet in rooms and decks have been cleaned and re-painted and we cannot thank them all enough.
Airsafe is proud to have been part of a project that makes such a difference to people's lives.
Support Warrah yourself
If you'd like to support Warrah yourself, you can make a donation to their current appeal, aimed at improving hydrotherapy services for their residents:
Hydrotherapy provides many wonderful therapeutic benefits for people with disability. Improving mobility and agility, relieving stress, and providing healthy sensory stimulation are just a few of them!
Airsafe supports the good work that Warrah does, and we encourage you to support them too if you can.
What if you're renovating your own bathroom?
Warrah was fortunate to have a partner in Brookfield Multiplex who understood the need to take proper precautions around asbestos before commencing a bathroom renovation.
Unfortunately, not all home renovators take the same precautions. Encouraged by reality TV shows, homeowners will rip up old tiles and lino, or knock holes in walls, without considering that these are prime locations for asbestos containing materials – especially if the building is a few decades old.
Nor is there any guarantee that a professional builder will take the right precautions. We've talked before about a case where a a builder reassured a Canberra couple that the asbestos in their bathroom was "not the dangerous kind".
The safe thing to do is to contact Airsafe for an asbestos inspection any time you're planning renovations to a bathroom or any other part of your house. If we find suspect material, we'll test it in our laboratory, and if it does turn out to be asbestos, we'll give you reliable advice about how it should be removed and disposed of.