Asbestos is an isolated, physical contaminant that appears in a variety of shapes, sizes, and degrees of deterioration, including:
Bonded Asbestos-Containing Material (ACM)
Fibrous Asbestos (FA) – Friable and fibrous material, i.e. loose insulation or any other material that can be crumbled or broken by hand pressure.
Asbestos Fines (AF) – Free fibres, ACM or FA that have been degraded, broken, damaged or weathered
Former waste disposal, industry, and other activities can contaminate sites.
Contamination is typically detected during land-use shifts, such as from industrial to residential, and can have serious consequences for local governments, landowners, potential buyers, and other stakeholders.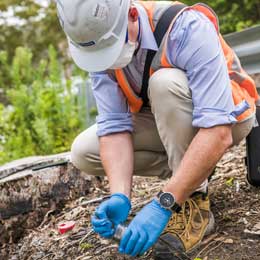 How Can Airsafe Help You?
Airsafe has conducted asbestos in soil investigations in the past. Consultation, site inspection and sample recovery are all services provided by a team of contaminated land experts who are familiar with sampling methodologies and patterns.
All samples are analysed here at
Airsafe's NATA accredited laboratory
. For all soil investigations, the details of the study, the analysis of the data, and any recommendations are given as part of our report. Airsafe can also create associated management plans in order to meet legislative, regulatory, or project needs.
Need help with asbestos in soils? Contact Airsafe