Need an answer fast? For a small surcharge, we can deliver results within hours. We can even pick up samples from you! (Additional costs apply.) Airsafe is NATA Accredited for Sample Identification for Asbestos.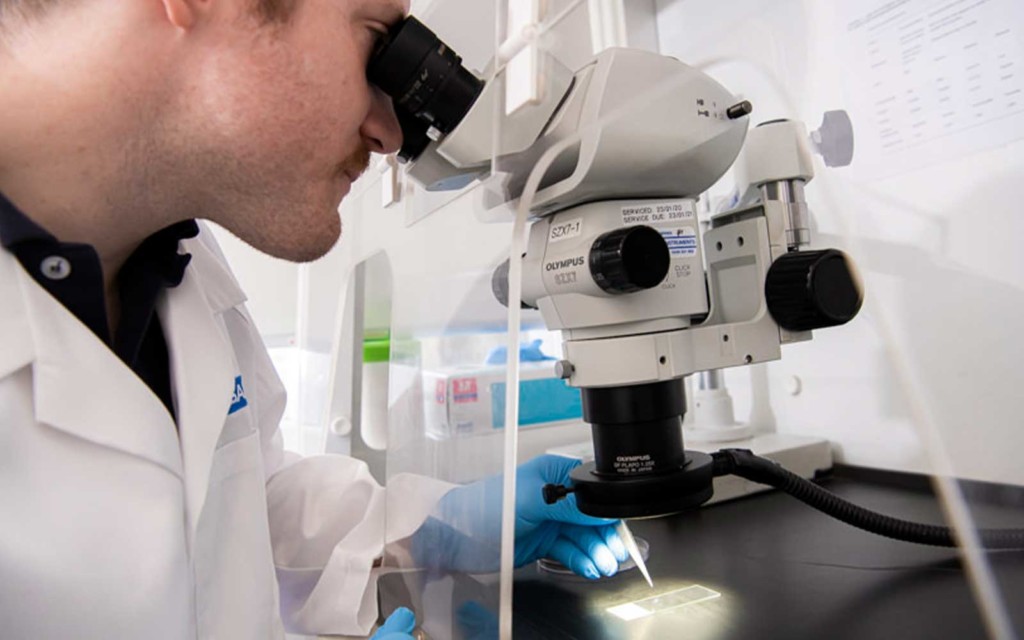 In Airsafe's state of the art laboratory, we analyse samples using:
Polarised Light Microscopy (PLM)
Dispersion Staining (DS) techniques
The result: a definitive answer, backed by Airsafe's unbeatable experience and reputation.
You should always be careful when taking samples of materials you suspect contain asbestos. Here's our easy step-by-step guide:

Take safety precautions as outlined in Fact Sheet 2: Safe Practices for Homeowners Repairing or Removing Small Amounts of Asbestos Materials from asbestosawareness.com.au
Wet the material to suppress dust release.
Carefully collect a sample using hand tools (sample size should be 5-100g).
Place the sample in a click lock plastic bag. You can find these at any supermarket.
Clean your hand tools thoroughly with a wet wipe then seal the wipe in its own click lock bag.
Double bag your sample in a second sealable plastic bag.
After sampling, you should use paint to seal any broken material with the potential to cause airborne asbestos dust.
Complete this form, click "Get printable version" and print out the resulting page. Then put the form and the double-bagged sample in an envelope.
If you can, bring your sample in person to Airsafe at Level 1, 488 Botany Road, Beaconsfield NSW 2015. (Call us first on (02) 9555 9034 to let us know you're coming.)
If you can't bring your sample in person, samples of asbestos to be tested that are packaged appropriately are exempt from Dangerous Goods rules – as long as they comply with the following packaging requirements if you send via the mail.

Sample double-bagged then wrapped in two layers of 200um plastic
Sample containers must be leak-proof and impervious to contamination
Sample can remain at room temperature, doesn't need refrigeration
Placed inside a cardboard box or sandwiched between two layers of cardboard
Package clearly labelled as "Sample for Testing"
Expressed-posted or Parcel-posted only
Package must be kept under 1kg

Airsafe is one of Sydney's most respected and reliable asbestos testing services. With over 30 years' experience in the field of asbestos identification and sampling, our technical expertise and customer service are the best in the business. Our rigorous quality systems mean we meet all government requirements around asbestos testing, so you can relax in the knowledge that our testing is 100% accurate.
Can I get my entire workplace checked for asbestos?
Submitting individual samples to Airsafe for asbestos testing is a great option if you have one specific area in your workplace that you suspect might be contaminated with asbestos, and you would like to get an answer quickly.
However, just by testing isolated samples, you may not be fulfilling your legal obligations around asbestos. The first step in creating an asbestos register and management plan (see below) is having a full asbestos and hazardous material survey conducted by a qualified asbestos consultant.
The advantage of using Airsafe for your asbestos survey — apart from our unrivalled expertise in asbestos — is that we own and operate our own asbestos testing laboratory. This means that any samples that are taken by our asbestos consultant as part of the survey can be analysed in our laboratory, saving time and avoiding the temptation to cut corners on the number of samples taken.
According to Safe Work Australia's Code of Practice on How to Manage and Control Asbestos in the Workplace, a person conducting a business must not carry out or direct or allow a worker to carry out work involving asbestos if that work involves manufacturing, supplying, transporting, storing, removing, using, installing, handling, treating, disposing of or disturbing asbestos or ACM, except in prescribed circumstances.

Work Health and Safety Regulations require all persons who conduct a business or undertaking to ensure that all workers and other persons are not put at risk from work carried out as part of the business or undertaking. The person conducting a business or undertaking (i.e. management) is responsible for:

Control of risk and exposure
Health monitoring
Training and use of equipment
Controlling the use of equipment
Identifying or assuming asbestos or

ACM
The benefit of using Airsafe for asbestos testing
By owning and managing our own fully-equipped asbestos testing laboratory, we can make sure that:
Sample analysis results are provided as quickly as possible, without compromising the rigour of the testing process.
Airsafe's asbestos consultants can take any necessary samples during the asbestos survey process, without having to worry about the costs of third-party testing.
All laboratory asbestos testing is conducted by highly trained staff.
In order to receive accurate results, asbestos identification must be done in a laboratory with the proper equipment. At Airsafe, to guarantee that the job has been done right, we don't outsource sample analysis to a third-party asbestos testing lab. Instead, we have our own state-of-the-art laboratory where our highly trained lab staff analyse samples in full detail, using a rigorous process and advanced testing methods, including:

1. Polarised Light Microscopy (

PLM

)

Polarised Light Microscopy uses a special microscope to create polarised light conditions in which asbestos fibres become visible.

Regular light microscopes use unpolarised, white light. This is the type of light that we see with the naked eye, and its waves vibrate in random directions. Polarised light, however, has waves that vibrate only in one direction, and cannot normally be seen by human beings. The chemical composition of asbestos means that its fibres behave in a certain way under polarised light, making it possible for a trained technician to identify a material as asbestos, rather than another material that might look similar to the naked eye.

2. Dispersion Staining (

DS

)

Dispersion Staining is an analytical technique that takes advantage of the differences in the dispersion curve of the refractive index of an unknown material, relative to a standard material with a known dispersion curve, to identify or characterize that unknown material.

In asbestos testing, Dispersion Staining is used alongside Polarised Light Microscopy to confirm the presence of asbestos fibres in a sample, and to identify the specific type of asbestos.

The National Association of Testing Authorities (NATA) is a nationally recognised accrediting body for laboratories. If you're trying to identify asbestos, make sure testing is conducted by a NATA accredited laboratory. Otherwise, testing reports may not be accepted by SafeWork, local councils, and other authorities.

Airsafe's state of the art laboratory is NATA accredited for Sample Identification for Asbestos. If you're in Sydney or NSW and need an asbestos sample tested, you'll get a definitive answer, same day if required, backed by our unbeatable reputation.

Airsafe is more than just an asbestos testing lab: we're Sydney's most experienced asbestos consultancy. For more than three decades, we have been conducting asbestos surveys, air monitoring and clearance inspections for everyone from households to large corporations and government departments. WorkSafe NSW even uses our documentation as an example of industry best practice. There's no-one better qualified to help you with asbestos issues than Airsafe.

At Airsafe, we often receive phone calls asking us how to identify asbestos by sight. It would make our jobs much easier if asbestos identification was something that can be done with the naked eye. Unfortunately, it is impossible to identify the presence of asbestos by sight or from a verbal description.

It's true that the likelihood of your workplace containing asbestos varies according to when it was built. As a general rule:

If your workplace was built before the mid 1980s, it is highly likely that it may have some materials containing asbestos.
If it was built between the mid 1980s and 1990, it is likely that it may have materials containing asbestos.
It it was built after 1990, it is unlikely that it would have materials containing asbestos.

However, the only way to be sure about any individual material is to have it professionally tested for asbestos using the techniques outlined above.

According to law, a person with management or control of a workplace must ensure asbestos or ACM at the workplace is identified by a competent person.
More information
Find out more about: