Dust is a general term for fine particles suspended in the atmosphere. Dust can be generated by wind, disturbance of materials, release of gases, or some types of chemical reaction.
Dust can come from a wide variety of sources, including:
soil
pollens and fungi
sea salt
fossil fuel combustion
burning of biomass
industrial activities.
For occupational hygiene purposes, what's important is not the composition of dust but its particle size.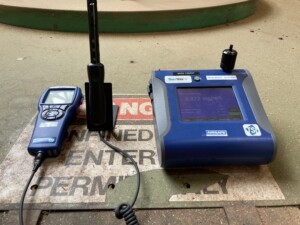 Inhalable dust vs respirable dust
Airsafe offers dust testing throughout Sydney and NSW for both inhalable dust and respirable dust. Respirable dust is a subset of inhalable dust, consisting of the smallest particles that penetrate the deepest into the respiratory system. Each type of dust has its own sampling method and exposure standard.
Inhalable dust consists of dust particles that can be inhaled through the nose or mouth. The human body gets rid of most inhalable dust by filtering it through nasal hair and mucous membranes, and by coughing and sneezing. However, too much inhalable dust can cause health and workplace safety issues including:
reduced visibility
symptoms such as runny nose, sneezing, watering eyes, coughing
conditions such as rhinitis and bronchitis.
Respirable dust consists of the subset of inhalable dust particles that are small enough to enter deep into the lungs where oxygen and carbon dioxide exchange occurs.
Most respirable dust is removed by white blood cells in the lungs. However, if too much respirable dust enters the lungs, it can overwhelm the body's defence system. These particles can accumulate in the lung tissues, causing scarring and inflammation over time. This can lead to conditions including:
emphysema
chronic bronchitis
chronic obstructive pulmonary disease (COPD).
Respirable particles are normally too fine to see, except in specific lighting conditions.
Airsafe conducts respirable dust monitoring and testing services in accordance with AS 2985-2009 Workplace atmospheres – Method for sampling and gravimetric determination of respirable dust. We compare the results to the Workplace Exposure Standards for Airborne Contaminants.

Dust risk identification and control
Work health and safety regulations require employers, in consultation with workers, to identify hazards, assess risks and implement practical controls to protect workers' health and safety.
If monitoring shows that inhalable or respirable dust poses a risk to your workers, Airsafe can help you manage that risk.
We can also help you develop a dust exposure assessment strategy and implement regulatory requirements.
Contact us for dust monitoring and testing services today
Airsafe delivers safe, comprehensive dust monitoring and testing services across Sydney and Australia. To organise a dust monitoring assessment, get in touch with us today on 1300 888 338.