Occupational Hygiene
Keeping your workplace safe and healthy is our highest priority at Airsafe.
Questions? Call 1300 888 338
The highest standards in technical expertise, customer service and quality assurance.

Why choose Airsafe?
NATA accredited

Airsafe's asbestos testing lab is accredited for asbestos fibre identification by NATA, the National Association of Testing Authorities.

Rapid response

When hazardous materials are suspected, we understand it's important to get an answer quickly.

Cost-effective

We charge a single, low flat fee per sample tested. It's the same price per sample whether you're having one sample tested or 10.
What is occupational hygiene?
Occupational hygiene is generally defined as the art and science dedicated to the anticipation, recognition, evaluation, communication and control of environmental stressors in, or arising from, the workplace. It's particularly concerned with stressors that may result in injury, illness or impairment, or may affect the wellbeing of workers and members of the community.
Find out more

Airsafe's occupational hygiene specialist
Our certified occupational hygienist is experienced in anticipating, recognising, evaluating and controlling workplace and environmental hazards. Expert at meeting your occupational hygiene needs, he has a particular emphasis on chemical, physical and biological hazards. These include airborne contaminants, chemicals, dangerous goods, indoor environment, hazardous waste, heat stress and noise.
He can help with issues relating to:
Airborne contaminants
Chemicals
Dangerous goods
Indoor environment
Hazardous and toxic waste
Heat stress and noise
Find out more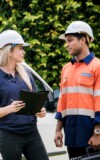 Need a

rapid response

?

Contact us for assistance with identifying hazardous materials, investigating contaminated land, undertaking air quality testing to quantify risks, and developing your risk management plan.

Airsafe always places your health as the highest priority.

Call us on 1300 888 338

"Airsafe's quote came through quickly, was very competitive, and the asbestos survey and report were completed very promptly. I would highly recommend Airsafe to anyone in need of an asbestos survey."
Jackie Tan Showyin
"The service provided by Airsafe is great, reports are always received in a timely manner always reflecting our job details on the report which is great! We have and would recommend your services without hesitation."
Brooklyn Last
Urban Building Solutions Pty Ltd
"I have used Airsafe services since 1993. We always have exceptional advice and service from Airsafe on all of our asbestos removal projects."
Craig Homans
CPA Contracting
"I found Airsafe to be reliable and knowledgeable in the industry. Their consultants are pleasing to deal with and accommodating to our needs. The reports they produce are of a high standard and well written."
Kara Basso
Endeavour Energy
"The staff at Airsafe are always easy to deal with, and provide a professional and competitive service. Throughout the asbestos removal industry, Airsafe are seen as one of the preferred suppliers of asbestos assessing services."
James Low
Project Manager, Pure Contracting Pty Ltd