Professor Gill North was one of those inspiring people who turn personal misfortune into action to improve the lives of others.
After a distinguished career as a law academic and corporate governance expert, Professor North was diagnosed with mesothelioma, a deadly disease caused by exposure to asbestos fibres. After a three year battle with the disease, she died on 23 December 2021.
Professor North never worked with asbestos, so her exposure wasn't workplace-related. Instead, she was one of the third wave of asbestos victims – home renovators who expose themselves to asbestos without knowing the dangers. Before her death, she gave several media interviews, speaking movingly and compellingly about the need for awareness and action:
Professor North's experience led her to start an organisation, Asbestos Awareness Australia, to start a public conversation about asbestos and to call for public health and policy action to prevent further needless deaths. In a survey of 43,000 Australian households, the organisation found that more than two thirds lack basic knowledge of the nature and risks of asbestos.
In response to this lack of awareness and the ongoing risk from asbestos being so common in Australian homes, Professor North's organisation is calling for specific reforms:
Nationally coordinated public health campaigns that warn about the specific risks and deadliness of exposure to legacy asbestos.
Compulsory residential property asbestos assessments prior to sale, renovation, or lease.
Legal requirements for residential property owners to have all asbestos removed by licensed professionals.
The introduction of interest free loans (means tested) for residential property owners to support the removal of asbestos by licensed professionals.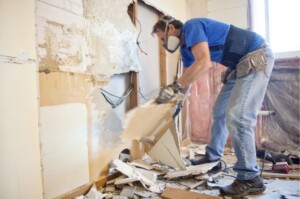 Airsafe has long believed that government at all levels in Australia needs to take the risks of asbestos more seriously. We applaud Professor North's legacy, and support her call for reform to save lives.
Book an asbestos inspection today
Airsafe are the experts in asbestos inspections throughout NSW. From Sydney to Newcastle and beyond, we have conducted countless asbestos audits that will provide you with completed and accurate documentation. To book an asbestos inspection in Sydney, NSW, contact us on 1300 888 338 today.