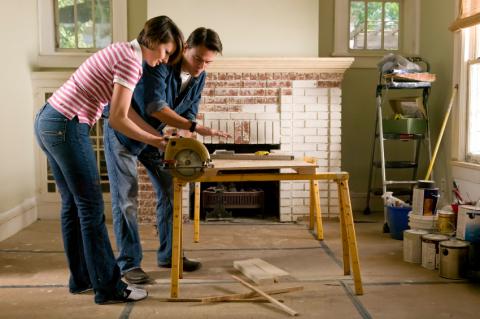 Asbestos Awareness Week has launched with a warning that popular TV home renovation shows may be contributing to a spike in asbestos-related disease, especially among women.
According to Barry Robson, president of the Asbestos Diseases Foundation of Australia, programs like The Block, The Renovators and Better Homes and Gardens are encouraging homeowners to embark on DIY projects, without taking enough care to warn them of the risks of asbestos:
Unfortunately we're heading for a third wave of victims and their families because home renovation is getting so big. An unfortunate byproduct of this is the increase in the number of women now presenting with meso [mesothelioma].
Around one in three Australian homes contains asbestos. Asbestos may not pose a risk if undisturbed, but when renovators drill through walls, rip up floor tiles, and so on, they risk releasing asbestos fibres into the air. Breathing in these fibres can lead to asbestosis, lung cancer or mesothelioma – usually after a long delay.
Protect yourself against asbestos risks
Fortunately, if you're planning renovations, you don't have to rely on wishful thinking. You can get peace of mind about asbestos by having a comprehensive asbestos survey. If your renovations are major, your council might require you to get an asbestos survey before they will issue a construction certificate. But even if it's not a requirement, an asbestos survey can put your mind at rest.
A word of warning: don't be tempted by cut-price asbestos survey offers. At Airsafe, we often find ourselves having to re-survey houses that have had a low-cost survey rejected by council – for instance, because they've tried to cut corners on asbestos sample testing. (At Airsafe, we have our own laboratory, so we don't have to cut corners.) It's worth paying a little bit extra for true peace of mind. Once you have our definitive findings and advice, you can go ahead and renovate to your heart's content!