Airsafe was recently involved with remediation of a Loose Fill Asbestos Insulation Property in conjunction with the class A friable licensed asbestos removal contractor BEasy and the Public Works Advisory.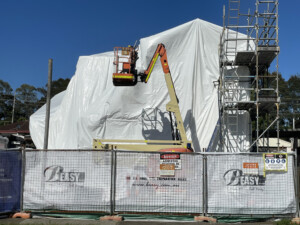 The project involved the design and construction of a fully enclosed impermeable enclosure for the property to ensure no loose asbestos fibres escape during friable asbestos removal works. An independent Licensed Asbestos Assessor (LAA) was then assigned to the property to witness and endorse these enclosures and provide interim and final clearance certificates as the project progresses.
Once all internal strip out works were completed including the removal of wall and ceiling linings, interim certificates were issued by the LAA and the interior of the property was entirely covered in a blue tinted paint as an extra precautionary measure. These works were witnessed and endorsed by NSW Public Works Advisory prior to the next phase of works commencing.
Upon completion of asbestos removal works, demolition and soil remediation works commenced. The property was fully demolished including footings and nominated ancillary structures. 100mm depth of soil from the entire footprint of the house extending to a distance of 1 meter from the exterior gutter line around the perimeter of the house was excavated and disposed of as asbestos contaminated soil.
After completion of all asbestos removal, demolition and remediation activities the LAA undertook soil sampling at 12 locations to assess if any asbestos contamination remains on the property. A final clearance certificate was issued by the LAA and property was deemed rehabilitated to the fulfilment of the scope specification.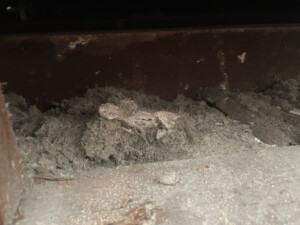 Need help with demolition and or remediation? Call Airsafe on 1300 888 338.