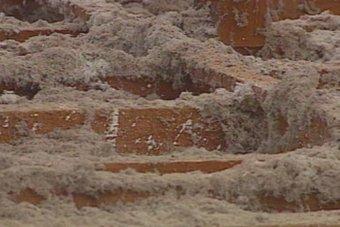 You've probably seen media stories about the discovery of loose fill asbestos insulation in a number of New South Wales homes, and the State Government's decision to offer to buy and demolish those homes.
Airsafe has been heavily involved in the now concluded free testing program arranged by the NSW Government. So we've seen first hand the anxiety of NSW homeowners at the possibility that their homes might be contaminated by asbestos.
The important thing to realise is that the vast majority of homes are unaffected by loose fill asbestos insulation. If you do suspect your home might contain loose fill asbestos, there are steps you can take to keep your family safe — even though the free testing program has now finished.
Here's a summary of the facts about loose fill asbestos:
Loose fill asbestos is a dangerous form of asbestos used for insulation by a small group of companies in the 1960s and 1970s.
The best-known of these companies, Mr Fluffy, operated in the

ACT

and in some areas of

NSW

.
Loose fill asbestos does not pose significant danger if left undisturbed, but its friability (the fact that it's loose and easily crumbled) increases the level of caution required by householders, compared to bonded forms of asbestos like fibro.
If you suspect your home contains loose fill asbestos, your first step is to get it tested in a

NATA

-accredited laboratory like Airsafe's.
The

NSW

Government has established a Voluntary Purchase and Demolition Program and Assistance Package for homes where loose fill asbestos is found. Under this program, homes are demolished, the asbestos contamination is remediated, and the asbestos is safely disposed of.
If a home where loose fill asbestos has been found is offered for sale or rent, owners must now disclose the presence of asbestos.
Read on for more detail. You can also find lots of information about the loose fill asbestos insulation discoveries, Government programs, and your rights and responsibilities as a home owner, at the NSW Government's Fair Trading website.
What is loose fill asbestos insulation?
Loose fill asbestos insulation is a material made from ground up raw asbestos. It was used to insulate some houses in the 1960s and 1970s. As with many other building materials at the time, asbestos was used because of its insulating and fire retardant properties. Once it became clear that asbestos was associated with deadly conditions including mesothelioma and lung cancer, its use in all building materials — including loose fill insulation — was banned.
Note that "pink batts", the most common form of insulation in Australian roofs, do not contain and have never contained asbestos.
Who was Mr Fluffy?
Mr Fluffy was a Canberra based business that was the main Australian vendor of loose fill asbestos insulation.
Based in Canberra, most of Mr Fluffy's business was in the ACT, where the continued danger of the material first came to light. Airsafe has previously written about Mr Fluffy and the ACT Government's much-criticised response.
More recently, it's come to light that Mr Fluffy also operated in some areas of NSW. So far, asbestos has been detected in 114 properties, clustered in a small number of local government areas, mainly in the south of the state, with a smaller number of contaminated homes discovered in northern Sydney.
What are the risks of loose fill asbestos insulation?
Like all forms of asbestos, the risks of loose fill insulation depend on tiny fibres being released into the air and breathed in by human beings. These fibres have been proven to cause deadly illnesses, with symptoms often not beginning until many years after the asbestos exposure.
The most common kinds of asbestos used in building materials are bonded or non-friable, meaning they don't pose a danger if left undisturbed. However, as the name suggests, loose fill asbestos is friable, meaning there is nothing to prevent fibres becoming airborne. It therefore poses a much greater risk in two ways: it's easier to breathe in asbestos fibres if you go up into your ceiling, and its also easier for fibres to drift from the ceiling to other parts of your house.
What should I do if I'm concerned about loose fill asbestos?
If you suspect your home might contain loose fill asbestos insulation, it's important to get a sample tested as soon as possible.
Airsafe offers a quick, reliable, NATA-accredited asbestos testing service in our state-of the art laboratory. Because of the friable nature of loose fill asbestos, we don't recommend you take the sample yourself: instead, call us on (02) 9555 9034 and we'll send one of our licensed asbestos assessors to your home.
Note that the free testing program previously offered by the NSW Government has now finished. You will be responsible for the costs of asbestos testing; however, Airsafe's rates are very affordable.
What are my options if loose fill asbestos is found in my home?
The majority of asbestos tests come back negative. However, if loose fill asbestos is discovered during testing, you have two basic options: to have your home demolished, or to improve its safety.
No home owner likes the idea of demolishing their home, but it also provides the greatest guarantee of safety and the fewest potential future problems.
If your home contains loose fill asbestos, you will be eligible for the NSW Government's Voluntary Purchase and Demolition Program. Under this Program, you have two options: to sell your entire home and land to the NSW Government, or to sell your home only and retain ownership of the land so you can rebuild once the house has been demolished and cleared of asbestos contamination. (If your property is greater than 2 hectares, only the second option is available.)
You may also be eligible for assistance with your relocation expenses.
If you choose to stay in your home, you will need to take steps to make sure that all gaps where asbestos could escape from the ceiling are sealed. You should use a Class A Licensed Asbestos Removalist for this (they need the more specialised Class A license because this is a friable form of asbestos).
For advice on a reputable asbestos removalist, call Airsafe on (02) 9555 9034.
Bear in mind that if you ever sell or rent your home, it will be your legal responsibility to inform the new owner or tenant that it contains asbestos.
As NSW's most experienced asbestos consultants, Airsafe is here to support NSW home owners throughout the process, as they deal with the stressful possibility of loose fill asbestos contamination.