Recently, Airsafe was surprised to get a call from the Dr Phil show. An Australian couple believed they were being poisoned by their neighbours, with serious effects on their health. Dr Phil wanted us to use our expertise in air quality and hazardous materials to find out whether their belief was justified.
Over the years, Airsafe has been hired for many different reasons, but this was a new one! Nevertheless, we knew we were the right people for the job, and we sent our senior occupational hygienist Josh to investigate. Here's what he found:
The work we did for Dr Phil was similar to any comprehensive site assessment. It included:
Walkthrough inspection around the property
Thorough consultation with the client to ascertain specific requirements
Detailed investigation of the air quality through a variety of testing, such as general respirable dust, volatile organic compounds, polycyclic aromatic compounds, asbestos, lead, hexavalent chromium, silica, indoor and outdoor dust
Air samples, microbiological testing
Surface testing for a variety of sources such as particulate, spores, microbiological contaminants, asbestos, lead
Soil testing for a variety of substances
Preparation of relevant Inspection Reports.
In total, our air quality assessment included 280 separate tests.
So what was the outcome? After a comprehensive chemical analysis, Airsafe determined that the house was not being contaminated by chemicals from the neighbour. But that didn't mean the couple's illness was imaginary. Something was making them sick, but it was coming from inside their home: black mould.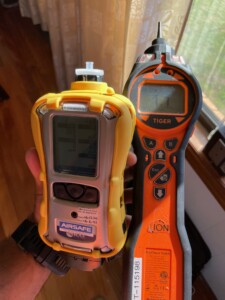 There are many reasons for bad air quality
This couple's experience shows how air quality issues can have many different sources, and it's not always the one you expect.
Poor air quality can be the result of natural events like bushfires and dust storms, or it can come from human activity like:
consumption
waste disposal
industrial production
transportation
energy generation.
As well as microbiological contaminants like black mould, air can be contaminated by excessive quantities of chemicals like carbon monoxide, or by particulate matter.
If you suspect an air quality issue in your home or workplace, Airsafe can conduct a full air quality assessment – as we did for the Dr Phil couple – to determine the source of any contamination, and give you reliable advice on any steps you should take to decontaminate the building and avoid risks to your and others' health.
Talk to Airsafe about an air quality issue: call us on (02) 9555 9034.