Asbestos-containing textured material was manufactured and utilised as a surfacing material on walls and ceilings, which was then finished with paint coatings.
Throughout the twentieth century, asbestos was regularly present in many paints and was used to lend dimension to walls and ceilings.
It became popular as manufacturers discovered that asbestos ingredients allowed liquid paint to flow smoothly and be stable in both hot and cold temperatures. Furthermore, Asbestos additives had been developed in order to enhance the colour of the paint.
Paints containing asbestos can be friable, especially if weathered and brittle, or when exposed to heat or sunlight.
One of Airsafe's licensed asbestos assessors recently encountered a textured paint containing asbestos (see photographs) in very poor condition while completing an asbestos register for a commercial site.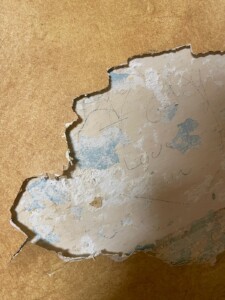 A risk assessment was subsequently undertaken with the identified textured paint containing asbestos considered to pose an unacceptable asbestos exposure health and safety risk.
Airsafe 's licensed asbestos assessors completed a scope of remedial works for the subject material with the objective being to yield the area satisfactory with respect to health and safety.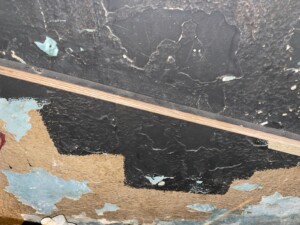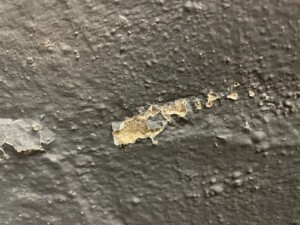 I suspect I may have textured paint with asbestos: What should I do?
Sample testing
Airsafe offers asbestos testing services to identify the type of asbestos present. Airsafe is NATA accredited in accordance with the Australian Standard AS 4964 — Method for the qualitative identification of asbestos in bulk samples. We collect samples for testing, then conduct testing in our state-of-the-art laboratory.
Our independence and NATA accreditation ensure sample integrity, and the high level of expertise of our staff means you can trust our test results. Our customer satisfaction and industry reputation are second to none.
Questions about textured paint with asbestos ? Call Airsafe on 1300 888 338.