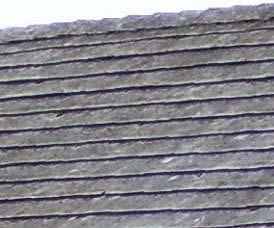 The most common kind of asbestos roof in Australia is "Super Six" corrugated asbestos sheeting. However, asbestos can also often be found in roof shingles or tiles.
Over time, asbestos shingled roofs take on a weathered appearance that looks a lot like slate.
In fact, sometimes asbestos shingle roofs look so much like slate that they get passed off as slate by real estate agents to unsuspecting home buyers. One of these home buyers told their story on an online forum:
Today a slate roofer came to our home to give us a quote on some work and he presented us with the bad, bad news. There is absolutely no slate on our house, simply asbestos shingles made to look like slate. In fact, they are so old that the asbestos fibres are showing.
Like corrugated asbestos roofing, asbestos shingles or tiles are safe as long as they're in their original condition. But because they're exposed to the elements, they're very subject to wear and tear. Once the material starts to break down, they can release asbestos fibres in the air, put you, your family and your neighbours at risk.
How to find out if your shingled roof contains asbestos
If you have a shingled or tiled roof that you think might contain asbestos, the best thing to do is have a sample tested – especially if some of the tiles are damaged. Find out how to get a sample tested for asbestos.
If the sample turns out to contain asbestos, Airsafe can talk you through your options. The good thing about asbestos roof tiles, compared to corrugated asbestos sheets, is that you may be able to just replace the tiles that have been damaged with matching tiles that don't contain asbestos.
You can also ask to have a sample tested before you buy a house, if you suspect the "slate" roof might contain asbestos. Even the most ethical real estate agent will sometimes make an honest mistake!