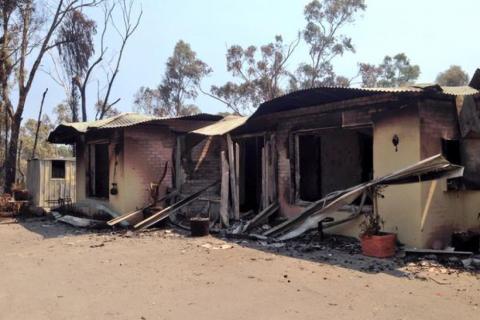 As Dorothea Mackellar famously said, Australia is a sunburnt country, a land of sweeping plains. More than just sentiment, Mackellar's words explore a key element of the Australian national character: gruelling natural disasters. Indeed, our country experiences a range of adverse weather phenomena, including bushfires, floods, severe storms, earthquakes and landslides. As a result, many Australians are taught how to cope with natural disasters from a young age. We learn to evacuate buildings during fires; to avoid low lying areas during floods; and to stay away from electrical appliances during nasty storms. Even so, while many of us are aware of the dangers we face during these disasters, fewer of us can identify the risk factors in the aftermath.
At a fundamental level, the availability of shelter, electricity, food, water and medical care are of primary importance. However, natural disasters can also pose longer-term threats to human health in the long run. One of these long-term threats is asbestos. With so many Australian homes containing building materials made from the mineral, the risk of dangerous particles becoming airborne during natural disasters is one that many are unaware of.
Dangerous events such as bushfires, hurricanes and floods can leave a destructive trail of debris behind, wreckage that can expose humans to asbestos materials that are no longer sealed and contained.
Clean up complications
Due to the affordability of the material, as well as its versatility, approximately one third of all homes built in Australia contain asbestos products. These can include, but are not limited to:
Roofing felt
Vinyl floor tiles
Taping compounds and plasters
Pipe lagging
Acoustic ceiling material
Block insulation
If left undisturbed, and properly contained within the home, these products are all considered safe. However, once they have been ripped, broken, burned, or washed away, these materials have the potential to become a very real health hazard. Once the materials have been agitated, there is a chance that asbestos particles could become airborne, increasing the risk of exposure via accidental inhalation. This sort of exposure might lay the groundwork for the human body to develop mesothelioma and other condition that can take years to develop.
For this reason, it's important people understand the risks associated with the aftermath of a natural disaster, as well as the event itself. After all, in the wake of such emergencies, it's not only homeowners who are at risk. Firefighters, SES crews and emergency volunteers are all deemed to be high-risk occupations for exposure after any bushfire, fire or flood. Regardless of their reasons for being at the scene, individuals should always use caution when cleaning or searching through debris.
But not all natural disasters are created equal. Each different event presents a particular set of circumstances by which asbestos fibres can be released, inhaled, or ingested.
Asbestos and bushfires
For the majority of the 20th century, most products made with asbestos, or some element of asbestos, were used to keep houses, ships, buildings, and pipes from getting too hot, and from catching fire. However, in incidents where these structures or parts did catch fire, they were exposed and tarnished in various ways. This damage often led to the toxic contamination of work and home environments. It should be noted that the smoke bellowing from an asbestos material could also carry contaminants.
Asbestos and floods
A home or a business that has been damaged by flood waters has the potential to expose asbestos through damage to flooring, to drywalls and to ceilings. Flood waters can compromise even the strongest of structures; breaking down asbestos materials into minuscule fibres. Once these fibres have dried out they can become airborne and, as a result, can be easily inhaled during the cleanup that ensues.
Asbestos and hurricanes
Although Australia is often hit the hardest by bushfires, long droughts and flooding, hurricanes also find their way to our shores, especially in the northern parts of the country. Unlike other natural disasters, hurricanes have three primary sources of destruction: powerful winds, storm surge, and rain. These 'storm surges' cause flooding along coastlines, causing much of the damage and resulting debris. As mentioned previously, it is this debris that can expose homeowners and emergency workers participating in the cleanup to airborne asbestos fibres. The amount of debris from a hurricane can be significant, and can overwhelm a community and break down the normally strict guidelines for handling hazardous materials.
How to handle asbestos safely after a storm
The majority of Australian homes and workplaces built before 1990 are likely to contain asbestos. If left undisturbed, these materials do not pose any immediate risk to health. However, in the event of a natural disaster, the damage of these components in the home can result in the release of small asbestos fibres that can become airborne, and easily inhaled.
As a result, it is essential to protect yourself and others when removing any debris after a disaster. During the cleanup of damaged or destroyed buildings, it is likely that there will be a need to handle, break up and dispose of asbestos-containing building and insulation materials that were compromised during the storm.
Due to these cleanup operations, there may be an accumulation of asbestos waste that could endanger not only homeowners and cleanup crews, but also to people in the neighbourhood, as well as those living in close proximity to the site of the material's final disposal.
So, in the aftermath of a natural disaster, how can asbestos risks be minimised?
Identify the locations of asbestos materials and carry out a risk assessment.
Ensure people involved in cleanup know the risks and the best practises for removal.
Restrict access to sites where there are building debris, and to demolition sites and waste sites.
Do not disturb any waste containing asbestos materials. Asbestos structures should be dismantled as gently as possible.
If you need to move or break asbestos materials, keep them thoroughly wet to reduce the amount of airborne fibres. Take particular care with friable asbestos materials.
Keep piles of asbestos-containing materials covered with tarpaulins or sheets of plastic until they can be stored safely or disposed of properly.
Ideally, if asbestos-containing materials are suspected during cleanup, you should leave them alone until you are aware of the real dangers, and the best practises for removal. Agitating asbestos-containing debris can result in airborne asbestos fibres, resulting in a high risk of exposure.
If you've been adversely affected by a natural disaster and you're unsure of what to do, call Airsafe immediately on (02) 9555 9034.
Our experts will talk you through the process of how to contain, destroy, and dispose of your emergency asbestos threat.