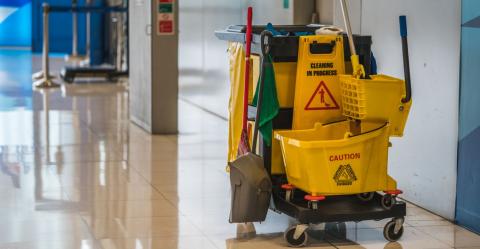 To prevent transmission of COVID-19 (coronavirus), you should follow good cleaning and disinfection and hand hygiene practices at all times.
If an incident of potential exposure to coronavirus happens in your workplace, you will need a rigorous environmental clean of the affected area, with the cleaners wearing personal protective equipment (PPE). You should also engage an occupational hygienist for guidance and certification.
Airsafe can have an occupational hygienist on site quickly anywhere in NSW: call us on (02) 9555 9034.
Cleaning and disinfection
Surfaces should always be cleaned before being disinfected, because organic matter can inactivate many disinfectants. Cleaning reduces the soil load, allowing the disinfectant to work. To remove germs such as the virus that causes COVID-19, you should clean thoroughly, then disinfect the surface.
The length of time that SARS-COV-2 (the cause of COVID-19) survives on inanimate surfaces will vary depending on factors such as:
amount of contaminated body fluid (for example, respiratory droplets)
amount of soiling
environmental temperature
humidity.
Coronaviruses can survive on surfaces for many hours, but are readily inactivated by cleaning and disinfection.
General cleaning and hand hygiene
It is good practice to routinely clean surfaces at your workplace. Clean frequently touched surfaces with detergent solution. Clean general surfaces and fittings when visibly soiled, and immediately after any spillage.
Soap and water can be used for hand hygiene at any time, and should always be used when hands are visibly soiled.
Alcohol-based hand rub (sanitiser) can be used if soap and water are not readily accessible, except when hands are visibly soiled.
Cleaning hands regularly also helps to reduce environmental contamination.
Environmental cleaning procedure
Where there is a known potential for exposure to coronavirus, you need to follow a rigorous environmental cleaning procedure:
Wear Personal protective equipment (PPE, see below).
Work in a well-ventilated area.
Wipe the area with bleach solution using disposable paper towels or a disposable cloth.
Clean horizontal and frequently touched surfaces, furniture and fittings.
Clean windows, sills and frames.
Clean air conditioning units and dispose of filters.
Mop the floor.
Once cleaning is completed, place all disposable cleaning items in a rubbish waste bag. Waste does not require further handling or cleaning measures.
Clean reusable cleaning items such as mops using hot water, and dry them completely.
Remove PPE.
Dispose of PPE in a leakproof plastic bag.
Wash hands well using soap and water and dry with disposable paper or single-use cloth towel. If water is unavailable, clean hands with alcohol-based hand rub.
Personal protective equipment (PPE)
Personal protective equipment (PPE) for the environmental clean should be put on before entering the work area. Appropriate PPE includes:
Disposable overalls
P2/N95 respirator – should be fit-checked with each use
Face shield or goggles
Disposable non-sterile gloves (with hand hygiene before putting on and after removing gloves).
Engage an occupational hygienist
You should engage an occupational hygienist to provide guidance on the cleaning requirements and certification at the conclusion of the cleaning process.
The scope of work should involve the following:
Walkthrough inspection of the property
Bio tape swab sampling for microbiological contamination
Laboratory analysis of selected samples by an accredited laboratory
Preparation of inspection and recommendations report.
Airsafe has occupational hygienists and a group of contractors readily available. We can project manage the environmental clean or provide advice and guidance on the clean-up process.
Legislative Requirements
Airsafe's inspections and reports are always undertaken in accordance with the requirements and principles of the relevant legislation and guidelines, including:
NSW Work Health and Safety Regulation 2017
NSW Work Health and Safety Act 2011
Australian Government – Environmental cleaning and disinfection principles for COVID-19
QLD Government – COVID-19 Cleaning and disinfection recommendations
WA Health – COVID-19 environmental cleaning for non-healthcare settings.