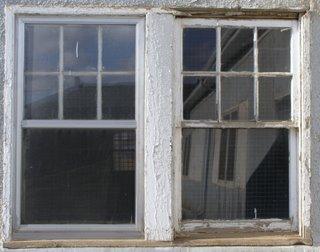 As you know by now if you've been keeping up with the news from Airsafe, asbestos can be found in all sorts of places in older homes: in walls, under lino and carpet, in or behind heating appliances, in toilet cisterns and seats, in meter boxes…
But did you know that there might also be asbestos in your windows? Specifically, the putty used to seal windows can contain asbestos, especially in houses built in the early and middle parts of the 20th century.
Why was asbestos used in window putty?
Why would asbestos be used in window putty, of all things? For the same reasons that asbestos was used in any building product: it added strength and fire resistance. Fire resistance is an especially desirable quality in window putty. Some types of putty are intumescent, meaning that when the putty is exposed to heat, the material swells, increasing in volume but decreasing in density. This makes the putty very useful as a form of fireproofing, protecting the surfaces they are applied to from heat damage. These types of putty were the most likely to contain asbestos. (Interestingly, asbestos-containing putty was also used extensively in US naval vessels!)
As with most uses of asbestos, then, there were good intentions behind the use of asbestos in window putty. But the result is that old windows are now just one more source of possible exposure to asbestos, especially during renovation or when the windows are being replaced.
The risk is exacerbated over time as the putty becomes weathered and starts to break down. Anyone who's ever lived spent winter in an unrenovated older house will be familiar with this problem: the putty around the windows becomes so broken down that it no longer does its job of keeping out the cold. This leads many people to use temporary solutions like insulating tape, but in the meantime, the putty is still gradually wearing away and becoming friable, which brings the danger of asbestos fibres being released into the air.
Precautions when repairing or replacing windows
Eventually, if you live in an older house you will want to replace or repair your windows. It's been estimated that heat transfer through windows can account for 10 to 25 per cent of heating and air conditioning costs, so it makes sense from both a financial and an environmental point of view.
So what precautions should you take when replacing or repairing windows in older houses?
We recommend caution around window putty for the same reason we urge people to take care around asbestos roofs: although the material is not dangerous in its original, bonded form, the fact that it's constantly exposed to the elements means that it will inevitably break down over the years. Weathering can make non-friable asbestos friable.
If any of the putty in your windows is coming loose, we strongly recommend you have a sample tested before doing anything else.
Window professionals urge asbestos caution
How serious is this issue? Well, you only need to see how people who work professionally with windows have responded.
Well-known glazing company O'Brien's is so concerned about the possibility of asbestos in window putty that it's issued an asbestos safety alert to its glaziers, with the following instructions:
Any Glazier dispatched to replace glass sealed with steel framed putty in a building/home believed to be pre-2004 MUST check the age of the property with the owner/tenant and enquire if an asbestos management plan and/or register is in existence.
If no asbestos register is available, work must NOT be completed until a sample is taken by a National Association Testing Authority (NATA) approved lab to identify the potential risk of exposure to asbestos containing materials.
Under no circumstance should high-speed abrasive power tools be used, such as angle grinders, sanders or drills.
The Australian Glass and Glazing Association (AGGA) has issued a similar safety alert, noting that one of its members had recently had asbestos detected in a sample of old steel/ aluminium putty.
What's safe to do around windows?
The European Federation of Building and Woodworkers have published a useful list of which activities related to windows contain which levels of risk of exposure to asbestos, as long as the window putty is undamaged:
Activities involving little or no risk of asbestos exposure:
Removing casements
Transporting casements
Cleaning window panes
Painting window putty
Performing visual checks
Activities involving an increased risk of asbestos exposure:
Knocking out panes of glass with a hammer (outdoors)
Cleaning indoor work areas with a damp cloth or a suitable vacuum cleaner (do not dry-wipe)
Removing window putty using a putty knife or chisel (outdoors)
Removing window putty using a heat-based process in which the putty is heated to around 70°C to soften it
Removing caulk (between window frames and masonry) using a putty knife or chisel
Activities involving a very high risk of asbestos exposure:
Dry-wiping asbestos-containing dust
Shredding whole windows or parts of windows containing asbestos-containing putty
Removing window putty using milling machines, joint cutters or oscillating knives
Grinding down putty residue
However, if the window putty is damaged — if it looks weathered or has started to crumble — you shouldn't undertake any activities until you've taken a sample and had it tested for asbestos by a NATA-accredited laboratory like Airsafe's.
Bear in mind that if the window putty is old enough to contain asbestos, there's a very high possibility that is has become damaged by the natural weathering process over the years. For this reason, we recommend that DIY enthusiasts with older houses err on the side of caution if you're planning to do anything that might involve disturbing window putty.
If you live in Sydney or NSW and have any questions about possible asbestos in your windows, give Airsafe a call on (02) 9555 9034.