Airsafe's drug lab testing services
Airsafe's experts can be engaged for clandestine drug laboratories testing either before the cleaning program (to determine the hot spots which the cleaners should concentrate on), after the cleaning program (to determine whether the property is acceptable for reoccupation), or both.
When investigating clandestine drug laboratories, we perform three checks:
thorough visual examination
volatile organic compound (VOC) testing
residual drug screening.
Thorough visual examination
During our clandestine drug laboratory testing service, we inspect all accessible areas, with special emphasis on kitchens, bathrooms, toilets and laundries.
Chemically stained walls and other surfaces need extensive cleaning by a company with expertise in decontamination, but in many cases, the level of staining is so bad that we recommend all or part of the wall be replaced.
Carpets that have been lightly stained or are adjacent to former drug manufacture will require at least a full industrial steam clean or shampoo. If badly marked, they too will require replacement.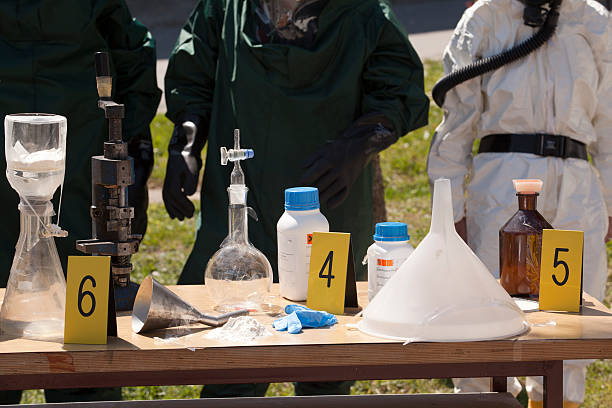 Volatile organic compounds (VOC) testing
Clandestine drug labs (clan labs) are typically 'dirty' environments with little concern for the safety of those who use them. Even after a laboratory is closed down, there may be a risk of fire or explosion from solvent residues, or adverse health effects from toxic chemicals used in drug manufacture.
Most solvents and many toxic chemicals can be measured as volatile organic compounds (VOCs). To get an indication of overall VOC levels, we use a photo-ionising detector (PID) analyser, which can detect VOC levels down to parts per million.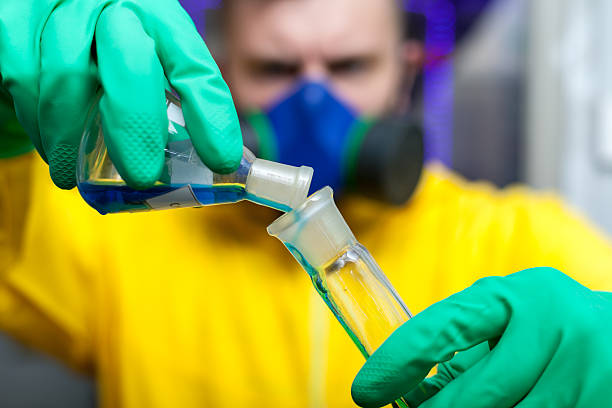 Residual drug screening
Wherever police have confiscated drugs, chemicals, glassware or other utensils, we test for residual drug levels. We use a forensic test kit, which can test for most kinds of drug. We can use this kit to test benches and other surfaces where drug residue is suspected.
Final report
Our final report confirms that a property:
is visually clean with no significant staining
has VOC levels below standards in all areas
has drug screening tests return negative results in appropriate areas.
Once these three conditions are satisfied, we will generally report that the property is acceptable for reoccupation, and cleansing orders can be lifted.
Contact us for drug lab testing today
If you're looking to clean and reoccupy a clandestine drug laboratory, it's essential to have thorough testing completed to ensure all traces of illicit substances are removed. For any questions about our clandestine drug laboratory testing and remediation services, call Airsafe on 1300 888 338 today.