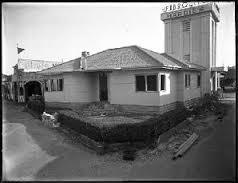 The Australian Council of Trade Unions (ACTU) secretary Dave Oliver has threatened to renew its campaign to make James Hardie Industries pay its asbestos victims. The unions are insisting that Hardie meet the expected funding shortfall that has been forecast due to the rise in new claims for asbestos related illness — a call echoed from both sides of Australian politics.
The story so far
James Hardie was a key player in asbestos mining and manufacturing in Australia through most of the twentieth century.
The company was involved in the manufacture and distribution of a range of products that contained asbestos, including: building products, pipes, brake linings and installation products.
In 1978 the effects of pleural abnormalities and other asbestos-related diseases were
beginning to show up in former James Hardie workers.
By 1987 James Hardie had ceased using asbestos in all of its building and piping materials.
Working with products containing asbestos—including the building material known as fibro—caused many Australians to develop various pleural abnormalities such as asbestos and malignant mesothelioma.
James Hardie and its subsidiaries started to provide compensation for victims of its operations in the 1980s.
The Asbestos Injuries Compensation Fund (AICF) was formed in 2006 to implement and administer the agreement between James Hardie and the New South Wales Government, whereby James Hardie Industries committed to funding a new trust which would pay compensation awarded against former James Hardie companies.
Under this legal agreement, James Hardie pays a set amount every year to AICF to pay victims suffering from asbestos-related diseases.
Since the fund's creation, the guarantee of payments to sufferers from asbestos-related disease has been under constant scrutiny from the media, as well as asbestos disease advocacy groups.
The current state of the asbestos fund
In mid September, James Hardie confirmed that the Asbestos Injuries Compensation Fund (AICF) could run short of money as soon as 2017. The fund's prediction of a shortfall is based on an annual report compiled by KPMG, who earlier this year revealed a number of mesothelioma claims that was much higher than expected. The blowout of reports caused the AICF to raise its forecasts for cases of the asbestos-related cancer, worrying that the worst could still be yet to come.
Mesothelioma is an aggressive and difficult to treat cancer, tending to affect younger people more than many other asbestos-related diseases. Due to the nature of the illness, the compensation amounts for each case tend to be much higher than for other asbestos-related diseases.
The combination of the rise of reported cases and the expensive nature of mesothelioma treatment has seen KPMG increase its prediction of the total amount of compensation that the AICF may be liable for to $1.87 billion.
In response to the KPMG's prediction, the AICF as well as the ACTU have been in discussions with the New South Wales Government and James Hardie, trying to negotiate an approved payment scheme (APS).
The money is running out
To date, the funds have proved sufficient overall, but the Asbestos Injuries Compensation Fund (AICF) fear that the well could soon dry up. In recent years the AICF has at time has to dip into a loan facility established in 2010 by the NSW government with equal funding from the commonwealth. The AICF are now warning that—due to the rise in asbestos-related illness—it is forecast to run out of money sooner rather than later. These desperate times have called for desperate measures. With the need for compensation at an all time high, the AICF have demanded the NSW and federal governments extend the loan facility by more than $100 million, to $320 million.
If the AICD do not receive this funding, they are warning that they will proceed with an application to the NSW Supreme Court to pay victims in instalments, rather than lump sums—a method of payment that could jeopardize treatment options for those suffering from asbestos related diseases.
The AICF is also likely to be forced to draw on a loan facility provided by the NSW government; up to $214 million of what was set up as a potential $320 million facility. However, the AICF do pay interest on money borrowed under the loan arrangement, and so this option is not ideal.
Who will foot the bill?
Many are concerned that James Hardie are trying to avoid their financial obligations towards sufferers who are owed compensation.
The question is, if James Hardie refuses to top up the AICF, who will foot the bill? South Australian Independent Senator Nick Xenophon says Australian taxpayers should not be on the line for James Hardie's liabilities, asserting that Hardie can clearly afford to inject more money into the fund:
> Now that they've bounced back they need to fork out from their very healthy profits rather than having taxpayers foot the bill.
Barry Robson from victim support group the Asbestos Diseases Foundation of Australia agrees:
> They could have put that into the fund, but they didn't. They decided to give that out in bonuses and dividends to shareholders. The fund should come first. The victims should come first.
Don't become the next James Hardie
Naturally, our primary concern with a story like this is for the victims of asbestos-related diseases.
However, there's also a lesson here for businesses and organisations. Fortunately, no current business has as much to do with asbestos as James Hardie formerly did. But every business has a responsibility for the health and safety of its employees. If you're in premises built before 31 December 2003, that means having an up-to-date asbestos register and management plan.
If you're at all concerned about your legal obligations around asbestos, don't take any chances: contact Airsafe for advice.