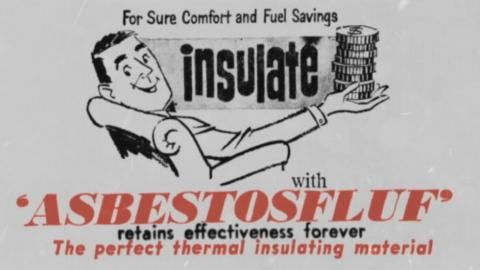 The NSW State Government has announced that it will set aside as much as $250 million for a voluntary home buyback scheme to help families caught up in the Mr Fluffy asbestos crisis, a plan that could ultimately see more than 500 houses demolished in locations such as Queanbeyan, Yass, Bungendore, Lithgow and Manly.
The decision comes just days before the ACT government releases a list of the 1021 properties in the territory that have been confirmed to contain the toxic Mr Fluffy insulation.
A recap on Mr Fluffy
The ACT and parts of the NSW are trying to deal with the aftermath of potentially dangerous asbestos loose-fill insulation that was installed in homes in the 1960s and 70s, used by two operators that became known as Mr Fluffy. The lethal asbestos was pumped into homes and marketed by the companies as "the perfect thermal insulating material". The insulation was blown into the roof spaces of homes for two decades.
Moreover, the companies are believe to have sold sacks of asbestos fibre direct to homeowners to insulate their own homes. This is believed to be how the material was installed in homes across such a broad and diverse area.
Homes affected by Mr Fluffy in
NSW
While more than 1,000 homes in the ACT were cleaned in the late 1980s and early 1990s, with many of these homes currently involved as part of a $1 billion demolition programs, residents in NSW have received little to no help from their own government until more recently.
As a result, authorities remain uncertain as to how many Mr Fluffy homes currently pose threat to homeowners and their families in NSW. To date, only 66 have been found in the state, most of which are located in the area of Queanbeyan.
But the ABC News has reported that, as evidenced by a study commissioned by the Government, it is possible as many as 522 properties across 26 local council areas may have had the potentially toxic substance installed, either by workmen, or with their own bare hands.
NSW

vs Mr Fluffy: the plan of attack

The voluntary buyback scheme, which officially launched in Queanbeyan on the 29th of June, offers greater flexibility to residents than the Mr Fluffy buyback initiative currently operating in the ACT. The biggest difference? Home owners will be able to keep their blocks, as opposed to selling them to the government in the hope that they can afford to buy them back sometime down the track (when the government is ready to resell).

NSW homeowners whose properties test positive for the presences of loose-fill asbestos will be able to enter the voluntary buyback scheme from Monday, June 29 until August 1 in 2016.

The NSW government launched the initiative after agreeing to all 13 recommendations of the Loose Fill Asbestos Insulation Taskforce. These recommendations include:
Establishing a public register of affected properties
Introducing mandatory hazard labelling
Identifying affected properties on planning certificates
NSW finance minister Dominic Perrottet said ensuring the health and safety of NSW residents was the government's top priorities for the duration of the project, and thereafter.
"This package will provide safety, certainty and support for our citizens and an enduring solution to the problem of loose-fill asbestos." he said.
One giant step for Mr Fluffy homeowners in
NSW
The NSW government's buyback scheme is a major milestone in the journey of Mr Fluffy homeowners in NSW. While the ACT government's attempts to eradicate loose-fill asbestos from homes began decades ago, the NSW government has been a little slower on the uptake. In fact, until the news of the government's new buyback scheme, Mr Fluffy homeowners in NSW were largely ignored by the state.
Though it was introduced much later, the NSW voluntary buyback scheme will provide current residents far more power than the Mr Fluffy program that is currently underway in neighbouring ACT. NSW residents will enjoy a greater amount of freedom once their affected households have been demolished.
According to a report released by the ABC, homeowners will be given the option of selling their house and land at market value to the Government. Alternatively, they can simply sell their house—an option that people living on rural properties are more likely to take advantage of.
How
NSW

will launch the fight against Mr Fluffy
A task force will be set up to carry out the program
A public register of Mr Fluffy homes will be drawn up
Warning statements may be put onto house contracts
Free asbestos testing across large parts of the state will continue
There will be an introduction of mandatory levels on contaminated buildings to protect tradespeople.
NSW residents have until the start of August 2016 to register.
Concerned about asbestos in your own home?
While government initiatives such as the ACT and NSW's voluntary buyback schemes are massive steps in the fight against Mr Fluffy loose-fill asbestos, many Australian properties still remain riddled with deadly asbestos fibres. Homes such as these may or may not fall into the catchment areas of these particular government initiatives, meaning that residents are left to their own devices when it comes to dealing with contamination in their homes.
Thankfully, we're here to help.
Get peace of mind fast with Airsafe
Airsafe's NATA accredited laboratory uses state-of-the-art equipment to get you a definitive answer about asbestos in your home. What's more, we'll get you the results quickly, so you don't have to wait too long before you make your next move.
If you think you may have found asbestos, but your home is not located in one of the 26 local council areas involved in the NSW voluntary buyback scheme, call Airsafe today on (02) 9555 9034.