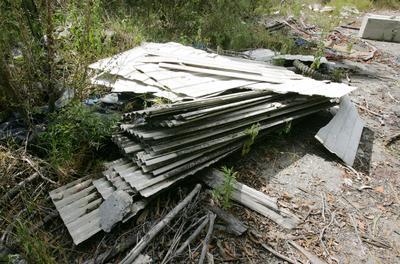 It's looking like the patience of NSW authorities with illegal asbestos dumpers is wearing thin.
Under new laws, repeat offenders could be spending two years in jail.
The news comes in the wake of yet more illegal asbestos dumping scandals, with asbestos dumped near a childcare centre in Belmore and a public school in Bondi.
Councils bear the brunt of asbestos cleanup
The new penalties are coming as a particular relief to councils, who have borne the brunt of not only safety fears but cleanup and disposal costs from the spate of recent asbestos dumping incidents.
Mayor of Bankstown, Khal Asfour, was particularly outspoken in hoping the new laws will apply to notorious serial dumper Dib Hanna:
They (serial dumpers) deserve to contemplate their actions in jail, not be slapped on the wrist and allowed to continue using Sydney streets as a rubbish tip.
Safe asbestos disposal: your responsibility
Whether you're disposing of asbestos yourself or engaging an asbestos removal contractor, it's your responsibility to make sure asbestos is disposed of safety. It's true that asbestos disposal costs are higher than those of regular waste, but that's no excuse for putting others in danger.
If you're engaging a contractor, the easiest way to make sure they do the right thing is to talk to Airsafe and ask us to recommend a reputable asbestos removalist in your area.
If you're a NSW business and need advice on safe asbestos disposal, Airsafe offers asbestos consultancy services throughout the state.