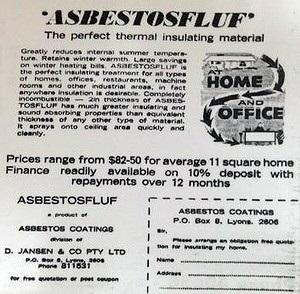 Since we last wrote about the Mr Fluffy asbestos insulation scandal affecting homeowners in the ACT, the story has hit the national headlines. The case reminds us once again that the legacy of the dangerous asbestos practices of the past will be with us for many years to come.
To briefly recap the story, Mr Fluffy was an insulation business that installed "loose fill" asbestos insulation in thousands of homes in the ACT and Queanbeyan, NSW, for around a decade from the late 1960s to the late 1970s.
Despite a government-funded eradication program in the 1990s, several of the homes were recently found to still contain asbestos, with some residents having to evacuate while the problem is sorted out.
"Loose fill" refers to a form of insulation that is sprayed into cavities in a home through a hole in the ceiling or wall, as opposed to "blanket" insulation such as pink batts. Safe, asbestos-free forms of loose fill insulation, often made of cellulose, are still in use today, especially for insulating hard-to-reach places in existing homes. But Mr Fluffy offered loose fill asbestos insulation as a cheap, easy solution for an entire home.
Loose fill asbestos insulation is particularly dangerous, because unlike the most common form of asbestos in Australian homes (fibro), loose fill insulation is not bonded, meaning it's easy for asbestos fibres to be released into the air. To make matters worse, the asbestos concentration in loose fill asbestos is extremely high, and the Mr Fluffy brand used amosite (brown) asbestos, linked to lung cancer as well as asbestosis and mesothelioma.
In fact, the concentration of asbestos, together with the lack of information about the long-term health effects of this type of asbestos, has led Asbestos Safety and Eradication Agency head Peter Tighe to call for the Mr Fluffy homes to be demolished altogether.
The effects on homeowners
The recent news that the previous asbestos eradication efforts have been incomplete has had a particularly severe effect on the owners of Mr Fluffy homes, as you might expect. It has led one resident to form an Action Group for owners and residents of "Mr Fluffy homes".
Of course, many of these residents didn't purchase their homes until after the asbestos was supposedly removed. They bought their homes with a government-issued asbestos clearance certificate stating that their homes were safe, which naturally they took in good faith. One of those homeowners, Tom Chesson, expresses his frustration in a newspaper column:
Being a trusting individual, I actually believed the papers issued by the ACT Government following the completion of the asbestos removal from my house, 17 years prior to my purchasing the house. These documents state the house was suitable for occupancy and that tests carried out in 1991 established that the National Health and Medical Research Council and Worksafe Australia standards of safety for asbestos removal had been met. My research at the time of purchasing our home led me to believe there was no longer an asbestos issue with the house.
The frustration of finding out that there may still be an asbestos problem with his homes has been compounded for Chesson by his experience of dealing with the ACT authorities:
[The government taskforce] can't tell me when the assessments will take place, what percentage of homes they have inspected to date are unsafe to live in or the next steps. I suspect they've been swamped with annoyed home owners and are floundering.
Of course, Chesson is also concerned that the uncertainty about asbestos will affect the value of his home: a minor issue compared to the possibility of contracting a life-threatening illness, but still one that will resonate with any Australian homeowner.
The effects on former workers
It's not just the homeowners and residents who are affected by the uncertainty. Spare a thought for the Mr Fluffy employees who spent every working day installing loose fill asbestos insulation. One former employee, David Laughlan, spoke to the Canberra Times about how teams of two would operate:
One of them would feed the asbestos by hand from bags into a hopper in the back of a Toyota Stout light truck, and the other would get into the roof cavity of the house and spray it through a blower between the joists in the ceiling, about four inches thick, he said. He had no mask or other safety equipment and no idea the material was a health risk.

"I suppose we all got the wool pulled over our eyes. We didn't know it was dangerous," he said.
Laughlan says that he sprayed loose fill asbestos insulation into 20 houses a week during his 6 months working for Mr Fluffy.
Dealing with asbestos issues? Airsafe can help
We may think the Mr Fluffy story is a lesson about the past, and our ignorance and greed in using asbestos as a building material even after the health risks started to come to light.
But while it's thankfully now illegal to use asbestos as a building material, there's still always the potential for a Mr Fluffy situation to rear its head whenever a construction project involves disturbing existing asbestos.
For employers, ensuring the proper procedures are followed around asbestos removal isn't just a legal requirement. It means that your employees aren't going to be left wondering years later, like David Laughlan, who is now in the position of having to undergo tests to see if he has contracted an asbestos-related illness. If you have an asbestos issue to deal with, talk to Airsafe: through asbestos surveys, air quality monitoring, clearance inspections and asbestos registers and management plans, we can make sure you're not exposing your employees to unnecessary risks.