In the past, asbestos-containing board and sheeting products used in construction have generally been classed as bonded or non-friable asbestos. This means the risk of asbestos exposure is considered low unless the products are damaged – for example, by being drilled or sawed.
However, WorkSafe Queensland have made an exception for one type of product, known as asbestos low-density board (LDB). This material, also known as Asbestolux or Duralax, is now classed as friable, meaning the risk of exposure is considered high.
Because of this reclassification, from 1 May 2021, any removals of low-density asbestos board in Queensland must be performed by a Class A licenced asbestos removal contractor in conjunction with an Independent Licensed Asbestos Assessor.
While Queensland is the only state to have made this change so far, it's a good reminder to home and business owners throughout Australia to treat low-density asbestos fibreboard with extra caution.

What is low density asbestos fibre board?
LDB is a lightly compressed board containing asbestos fibres in a calcium silicate plaster. It is sometimes referred to as asbestos insulating board.
LDB can contain up to 70 per cent asbestos fibres by volume. By contrast, asbestos cement sheeting typically contains between five to 20 per cent asbestos.
LDB was manufactured from the 1950s to the 1970s as a flat sheet, or a perforated sheeting product used for acoustic ceiling applications. It was typically used for internal wall and ceiling panels and as acoustic insulation. 
What is Friable asbestos?
Friable asbestos is defined by Safe Work Australia as asbestos-containing material that is "in a powder form or that can be crumbled, pulverised or reduced to a powder by hand pressure when dry".
Because friable asbestos releases more fibres into the air than non-friable asbestos, the risk to health is greater, and therefore extra precautions must be taken when dealing with it.
Why has WorkSafe Queensland classed LDB as friable?
If LDB is in good condition and left undisturbed it presents a low risk to building occupants. But if LDB is broken, removed or disturbed without precautions and controls in place, the potential for asbestos fibres to be released is high. This is because of LDB's high asbestos content and the ease with which it becomes damaged.
More needs to be done to minimise risks when managing, maintaining or removing LDB than would normally be used for asbestos cement sheeting. This is the why WorkSafe Queensland has reclassified the product.
Management of low-density asbestos fibre board
LDB may be managed in place if it is in good condition and the risk of damage or disturbance is low. Otherwise, it should be prioritised for removal, as its disturbance can release asbestos fibres.
Removal of low density asbestos fibre board
As per the model Work Health and Safety Regulation, hazards must be controlled in accordance with the hierarchy of controls. The hierarchy of controls (in order of effectiveness) is:
Elimination
Substitution
Isolation
Engineering controls
Administrative controls
Personal Protective Equipment (PPE).
Removal of LDB must be done in accordance with your state's work health and safety (WHS) Regulations.
More information is provided in the Code of Practice: How to manage and control asbestos in the workplace, and the Code of Practice: How to safely remove asbestos.
An asbestos removal licence is required to remove any amount of friable asbestos.
The removal of LDB will also trigger other requirements as stipulated by your state's regulator, including an Asbestos Removal Control Plan (ARCP) and the engagement of an independent, third party Licensed Asbestos Assessor (LAA).
How can Airsafe help?
Sample testing
Airsafe offers asbestos testing services to identify the type of asbestos present. Airsafe is NATA accredited in accordance with the Australian Standard AS 4964 — Method for the qualitative identification of asbestos in bulk samples. We collect samples for testing, then conduct testing in our state-of-the-art laboratory.
Our independence and NATA accreditation ensure sample integrity, and the high level of expertise of our staff means you can trust our test results. Our customer satisfaction and industry reputation are second to none.
Risk assessment
Airsafe can carry out a risk assessment to identify any risks associated with the identified asbestos-containing materials (ACM), in accordance with the HSE [UK] HSG264 Asbestos: The Survey Guide.
The assessor will carry the inspection by undertaking a preliminary walk-through followed by sampling of representative suspect materials, which will be analysed by qualified personnel. An assessment algorithm gives a total risk score, which determines the potential of asbestos fibre release.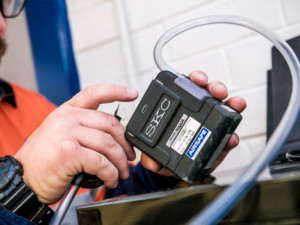 Air monitoring
Airsafe carries out asbestos air monitoring and testing services in accordance with the Guidance Note on the Membrane Filter Method for Estimating Airborne Asbestos Fibres 2nd Edition [NOHSC: 3003 (2005)].
Airsafe is NATA accredited to perform air monitoring and analysis.
Questions about low density asbestos fibreboard? Call Airsafe on 1300 888 338.