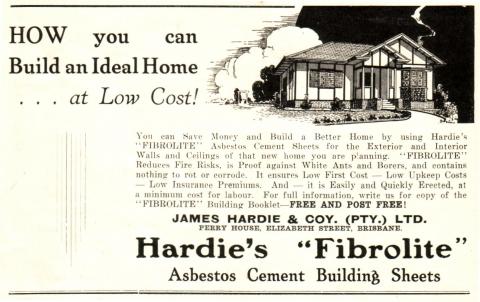 In September of 2014, the Asbestos Disease Foundation of Australia (ADFA) expressed its outrage at the James Hardie asbestos compensation fund's proposal to pay its victims their entitled compensation in periodic instalments. James Hardie's motion came following a forecast shortfall of funds within three years, a worrying estimate for those currently unwell, as well as any cases that could be diagnosed in future.
Why the shortfall?
Under the deal entered into by James Hardie to pay its victims, an annual independent actuarial report is required to estimate the likely amount of asbestos liabilities for James Hardie, its related entities and former businesses which are covered by the compensation fund.
According to the most recent report, ADFA president Barry Robson has said that the reason for the funding shortfall was because the number of Australians dying as a result of James Hardie asbestos products was still rising. More specifically, there has been a significant increase in the number of cases of mesothelioma, an incurable cancer that is caused by an exposure to asbestos in the work or home environment.
The details are as follows:
KPMG is budgeting $96 million for extra claims over the next three years, and $168 million more over the period from 2017-18 to 2015-26.
James Hardie says actuaries had previously assumed a peak in mesothelioma claims to have occurred in 2010-11, but the past two years of claims have been over and above original expectations.
In the year leading up to March 31st 2014, a total of 608 asbestos-related claims were received, a 12% rise from 542 claims the previous year, and well above the company's estimated 540 claims.
James Hardie says 604 claims were settled in its 2014 financial year, with an average settlement of $253,000, resulting in a total payout of $140.4 million for the year.
Mesothelioma claims jumped almost 20% in the year to March 31st 2014, to 370, up from 309 the year before, 259 in 2011-12, and 268 in 2010-11.
KPMG had previously expected only 300 mesothelioma claims in its forecast for 2013-14.
Further information can be found at James Hardie Investor Relations online.
Due to this spike in mesothelioma claims, Hardie's Asbestos Injuries Compensation Fund is headed toward a $184 million cash shortfall in 2017. If the Supreme Court of New South Wales (NSW) grants approval, the instalment plan will take effect July 1.
How will victims of asbestos-related illness be affected?
If the Supreme Court approves the manufacturer's plan to pay claimants in instalments, asbestos victims who have filed claims against James Hardie Industries may never live to see their legal compensation.
As it stands, sufferers receive a lump sum from the James Hardie compensation fund, but due to the financial reserve's estimated shortfall, the company wants to make much smaller payments, over a longer period of time.
But advocates for those affected by mesothelioma are outraged by the company's proposal, chiefly because the average life expectancy for people that are diagnosed with asbestos-related diseases is less than two years. ADFA President Barry Robson echoes advocates' concerns, stating that from diagnosis to death, sufferers have an average of only 155 days to spend with their loved ones. As a result of the rapid onset of the illness, victims need to see their compensation as quickly as possible, to cover the numerous costs associated with the disease.
So, what are the true costs of Asbestos-related illness?
Cost of diagnosis
The James Hardie asbestos compensation fund's proposal suggests the company may not fully appreciate the true nature of asbestos-related disease. For most patients, there is no clear path to a mesothelioma diagnosis. Not only is the disease rare, it has many similar symptoms to many relatively less serious illnesses. Pinpointing the disease involves several procedures, including but not limited to:
X-rays
CT scans
MRIs
Biopsies
PET scans
As each procedure is generally performed by a different medical professional, most people do not receive their diagnosis for two to three months, by which time the doctor's bills have already started to pile up.
Cost of treatment
Treatment can include chemotherapy, surgery, alternate therapies, and radiation, with all costs varying widely. For those who require ongoing treatment, the bills can become overwhelming. Patients who live in regional areas may also have to factor in the associated costs of lengthy travel and lodgings—financial burdens that can result in extreme hardship and crippling debt.
Hidden costs
When financing the costs of serious illness, it's not only diagnosis and treatment that patients need to consider. Some of the hidden costs include wages lost from taking time off work. In these instances, some patients may be forced to resort to credit cards to cover their expenses.
Piecemeal payments won't cut it
By its very nature, mesothelioma is a devastating and fast-moving disease, requiring specialised and costly medical care and attention. The life expectancy of the average patient is short, and the treatment is expensive.
"Asbestos victims don't die in instalments", says Barry Robson, "they don't lose the ability to work or care for themselves in instalments, yet James Hardie wants to see them compensated in that way."
Will James Hardie get their way?
James Hardie's new proposal has been deemed by advocates and victims as morally dubious, with many Australians also expressing their disapproval of the plan. And though it's too early to tell whether or not the Supreme Court will approve the fund's push for a more piecemeal plan for compensation, public anger continues to escalate.
Australians were shocked by the way James Hardie behaved 10 years ago, when the company attempted to leave our shores without compensating victims. Today, the scandal continues. ADFA President Barry Robson says that he hopes the community will continue to be outraged by James Hardie's immoral behaviour, joining forces with the ADFA to hold the company to account.
Be wary of asbestos in your workplace
The ongoing controversy involving James Hardie is a reminder to all companies of the dangers of asbestos. Thankfully, there are things that all employers can do to prevent opening themselves up to future asbestos-related claims. Whatever industry your company is part of, you should:
If you are unsure if your workplace is safe, contact Airsafe today on (02) 9555 9034.