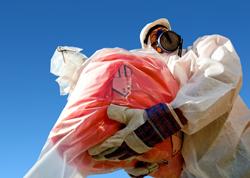 Do you need to get rid of asbestos during renovations? If you live in some NSW municipalities, you can take advantage of a pilot scheme to save some money on disposal costs.
An initiative of the NSW Environment Protection Authority, the Household Asbestos Disposal Scheme (HADS) subsidises the costs of asbestos collection and transport, and waives the normal asbestos disposal levy.
More about the Household Asbestos Disposal Scheme
A total of $781,000 has been awarded to 24 local government areas to participate in the Household Asbestos Disposal Scheme. The trial scheme aims to minimise the burden on householders who want to do the right thing with their asbestos waste, and to promote greater asbestos awareness nationwide. It's hoped that the scheme will also minimise the incidences of illegally dumped asbestos waste in NSW, a problem that still occurs despite the well known risks.
But not all asbestos is created equal. HADS only includes the disposal of bonded (non-friable) asbestos, and will not apply to the disposal of friable asbestos that can be pulverised, crumbled or reduced to powder by hand pressure.
What is bonded asbestos?
When asbestos fibres are bonded to another material, such as a cement or resin binder, it is known as bonded asbestos. It cannot be crumbled, pulverised or reduced to a powder by hand pressure when dry. Common uses in buildings include:
Corrugated or compressed asbestos-cement (AC) sheeting
Water drainage
Flue pipes
Floor tiles
If in good condition and left undisturbed, these materials generally don't pose a health risk. However, if fire, hail, or illegal water blasting damages bonded asbestos, it may become friable asbestos material. If materials in your home have experienced sufficient wear and tear, they may have become unsafe. A WorkCover licensed friable asbestos removalist must always carry out the removal of friable asbestos, and it's not eligible for the Household Asbestos Disposal Scheme.
Am I eligible for HADS funding?
The scheme is open to residents who live in one of the following council areas:
Kempsey; Shoalhaven; Wagga Wagga
North East Waste, including: Ballina; Byron; Clarence Valley; Kyogle; Lismore; Richmond Valley; and Tweed
Kogarah; Rockdale; Hurstville; Sutherland; Willoughby
Western Sydney Group, including: Blacktown; Hawkesbury; Holroyd; Hills Shire; Liverpool; Parramatta; Penrith; and Fairfield
Different councils have different arrangements, so you should check with your council about the exact process for accessing HADS funding. However, all councils require registration prior to disposing of asbestos; don't get rid of your asbestos first and then expect to get reimbursed by your council!
How much asbestos can I dispose of?
Each resident is entitled to dispose of up to five tonnes of bonded asbestos, once only under this scheme.
For quantities over 10m2, householders must use a licensed asbestos removalist who is registered to participate in the program.
Technically, if the amount is under 10m2, you can dispose of it yourself. However, at Airsafe, we always recommend getting expert advice before doing anything with asbestos. Call us first on (02) 9555 9034; we'll let you know of any extra precautions you should take, and put you in touch with a reputable licensed asbestos removalist if you need one.
What are my responsibilities around asbestos disposal?
As a homeowner, it's your responsibility to make sure asbestos is disposed of safely, even if you're using an asbestos removalist. That's why it's so important to engage a reputable removalist. Fortunately, Airsafe knows the asbestos industry back to front, and can put you in touch with a removalist who will do the job properly.
Under the Household Asbestos Disposal Scheme, asbestos is disposed of in designated council facilities. Your council will be able to give you more information.
Why is asbestos disposal an important issue?
Illegal dumping of asbestos waste is considered a serious crime, punishable by the state. But although the dangers of asbestos are widely known, unlawful dumping of the substance still occurs.
In September, a NSW man was convicted in the Land Environment Court and fined a total of $36,000 following an EPA investigation into the illegal dumping of asbestos waste. To avoid breaking the law and endangering others, you must make sure your waste is disposed of in the correct place, and this is what the Household Asbestos Disposal Scheme is meant to encourage.
How do I handle asbestos waste safely?
The household asbestos disposal scheme seeks to improve work health and safety by insisting that the guidelines for the safe removal and disposal of asbestos as recommended by Council, the Environment Protection Authority and WorkCover NSW are complied with.
Preferably, as a householder, you should handle asbestos as little as possible and leave it to licensed removalists. Licensed removalists are used to complying to detailed rules and guidelines like the following:
Appropriate personal protective safety equipment should be used during the removal process, e.g. face masks and gloves.
Asbestos must be dampened down prior to packaging. When dampening down, care must be taken to ensure no fibres dislodge.
Asbestos must be double wrapped in parcels of up to 200kgs before transporting to the Landfill site. The plastic wrapping must not rupture during the disposal process.
Customers with asbestos in an unacceptable condition may be refused entry and the matter referred to WorkCover.
All asbestos remains the property of the owner until it is deposited in the landfill. It is your responsibility until it's been taken off of your hands, so be sure to transport it correctly.
Local governments recommend the use of asbestos handling bags such as 'Hazibag or Tuff Bag' for larger quantities of asbestos.
How can I find out more?
The EPA has produced a comprehensive set of FAQs about the Household Asbestos Disposal Scheme.
If you have general questions about asbestos, don't hesitate to give Airsafe a call on (02) 9555 9034. And remember, if you're planning renovations and you're not sure whether you have asbestos, the first step is an asbestos inspection or asbestos sample testing.