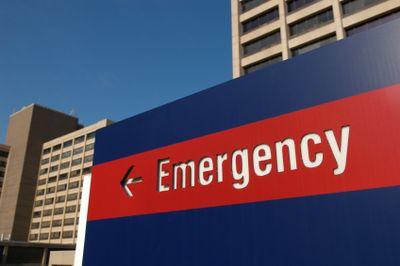 Most Australians are familiar with the dangers of asbestos, and its potential to cause the life-threatening cancer mesothelioma. The widespread use of the material on our shores has left a deadly legacy, with approximately 600 asbestos-related deaths reported each year.
With an industrial history embroiled in asbestos production, many Australian workplaces and homes have been contaminated by the deadly fibre. But the most recent asbestos findings in Australia may be the most concerning yet. Health unions and lawyers are warning that many major hospitals across the country are riddled with asbestos, posing a danger not only to staff, but to the general public.
Hospitals and asbestos, how did this happen?
Asbestos was used as a building material in many Australian hospitals before the late 1980s, when people started to take notice of the material's potential to harm. As a result, ABC journalist Matt Peacock says that the underground hot water pipes found in most major hospitals are often wrapped in asbestos insulation, or lagging.
Often, columns have been sprayed with asbestos fireproofing, a popular option before people were aware of its dangers. The tunnels Peacock mentions are frequently used by staff, nurses, doctors, and even patients—who are often transported via these potentially toxic paths to get from one hospital building to another.
What areas of hospitals are most risky?
Lawyer Tanya Segelov, who represented late asbestos campaigner Bernie Banton, recently told ABC's 7.30 Report that hospitals throughout Australia were full of asbestos in the years of their construction, and remain full of asbestos today. Specific areas of concern include:
Steam pipes wrapped in asbestos
Ceiling cavities that have been sprayed by asbestos
Hospital grounds
Fire doors
Boiler houses
Laundries
Underground service tunnels
Given the wide scope of places where traces of asbestos may be present, unions fear many are now at risk of falling victim to asbestos-related cancers.
Who could have been exposed to asbestos?
It's not only the nurses, doctors and maintenance staff of hospitals who are at risk of falling ill. For decades, most major hospitals have used their underground service tunnels to transport sick patients from one building to another. This routine left those who were already unwell open to exposure to airborne particles that had been left uncontained. And while it may not have been headline news, ABC's 7.30 program has revealed that asbestos in tunnels has already caused deaths.
In cases where people's exposure was walking through these underground tunnels between ten to fifteen times a day, the exposure has proved more than enough to cause serious health concerns.
Annabel Crouch, who worked as a speech therapist at Sydney's Royal North Shore Hospital for more than three decades, is one of the unlucky ones. In an interview, she told ABC that she and her colleagues frequently wondered the tunnels, passing by plumbers and other maintenance workers tampering with the pipes where asbestos lingered. She, like many of her peers, expected that their workplace was a safe environment. Unfortunately they were wrong; today Crouch is living on borrowed time, yet another victim of incurable mesothelioma.
Sydney's Westmead a high risk zone
Ever since its construction in 1978, Sydney's Westmead Hospital has had an asbestos problem, both within its walls and in its grounds. The medical centre was built upon tens of thousands of tonnes of dumped asbestos, a fact that now haunts Westmead's maintenance staff. Once a dumping ground for the notorious manufacturer James Hardie, Westmead's grounds are littered with fragments of toxic asbestos materials. So bad is the contamination, lumps of asbestos can be easily found in the lawns as you walk around the carpark.
Regardless of the site's shady history, Danny O'Connor—Chief Executive of the Western Sydney Local Health District—says that the asbestos in the Westmead tunnels has been thoroughly contained, adding that he is unaware of any report that speaks to friable asbestos in the centre's tunnels.
But O'Connor's statement has been rejected by the unions, after industrial hygienists PRENSA reported that there was friable asbestos throughout the hospital's undergound tunnels. The company identified white asbestos, brown asbestos, and high risk blue asbestos on concrete columns, concrete surfaces and pathways.
What needs to happen?
The NSW government says that it's committed to providing a safe environment for workers, patients and visitors at all state health facilities. Where the presence of asbestos has been identified, this involves managing, controlling, and (where necessary) removing asbestos as safely as possible through appropriately licensed contractors. Yet so far, little has been done to act on the discovery of asbestos in major Australian hospitals.
Unions NSW is now calling on State Health Minister Jillian Skinner to respond urgently to the revelations about the presence of deadly asbestos in the state's hospitals, adamant that the problem is an issue that demands a response from the top. With patients and hospital workers alike at risk every day, the Unions Secretary Mark Lennon says that asbestos in our hospitals is a problem of the gravest nature, one that demands an urgent response from the Minister.
> Pretending there isn't a problem is no longer an option. Yes, there will be a significant cost involved in ridding NSW hospitals of friable asbestos. But there is a far more significant cost in doing nothing.
The Union are now urging Ms Skinner to respond to their urgent calls for a meeting, hoping that action will proceed after a discussion has been had. Unions NSW believe that asbestos in hospitals is not a problem that can simply be ignored—it demands action from the top and it demands action now.
But despite their requests to meet with the Health Minister, Ms Skinner is yet to agree to an official discussion with Unions NSW.
If you have questions or concerns about asbestos, call Airsafe on (02) 9555 9034.