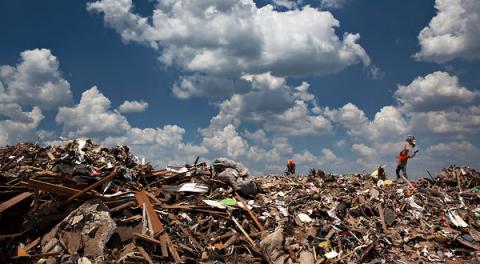 On March 14, 2015, The Sydney Morning Herald reported that a massive storm was bearing down on the South Pacific island nation of Vanuatu, bringing with it wind gusts of up to 240 kilometres per hour and putting nearly 250,000 people at risk. The Vanuatu government had urged its residents to seek shelter as Cyclone Pam, one of the strongest seen in the region, threatened to bring destructive winds, rough seas and the potential for storm surges, flash floods and landslides.
Twenty-four hours later, ABC News reported that Vanuatu's president was appealing for international help after the deadly storm left thousands displaced.
Asbestos in Port Vila
In Port Vila, the scale of the devastation was clear. Hundreds of homes had been flooded, having had their roofs torn off or been destroyed altogether. Of equal concern was the destruction of the Port Vila Hospital and several local schools, buildings that contained asbestos in large amounts, asbestos that had become friable during the storm.
In an interview with presenter Hilaire Bule for ABC Radio, Gary Bailey of the Australian Urban Search and Rescue Team (USAR) revealed that over one hundred kilograms of asbestos has been removed from Port Vila Central Hospital, as well as from a number of local schools in the community. Bailey told the program that the asbestos was found mostly in sheeting and roofing, common places where asbestos was once used in construction.
It was not the sheer volume that was most concerning, however, but the nature of the asbestos that has been found. When left undisturbed, as it had been prior to Cyclone Pam, asbestos does not pose a health risk. However, with the damage sustained by many of the buildings in Vanuatu, the asbestos fibres have become friable, and therefore must be removed immediately.
Bailey told ABC Radio that while asbestos anywhere out in the open was a dangerous, it was most dangerous after a serious storm.
When it's broken up in the way it has by the storm, the fibres that come off from the asbestos, it's very dangerous to human beings and they can cause some very serious diseases. So we need to clean it up as best we can.
How natural disasters like Cyclone Pam increase the dangers of asbestos
A substantial number of homes and commercial buildings constructed prior to the 1980s were built with asbestos materials. As alarming as this may sound, the materials are not immediately dangerous. Asbestos is considered relatively safe as long as it is contained, however, once the material is ripped, broken and burned, blown or washed away, the products become a possible health hazard. Thus, after a natural disaster such as Cyclone Pam, asbestos exposure lays the groundwork for the human body to develop mesothelioma cancer years down the track. This hazard is a result of toxic asbestos fibres becoming airborne.
How asbestos can be contained after a natural disaster like Cyclone Pam
During his interview with ABC radio, Gary Bailey said that the Australian Urban Search and Rescue team arrived in Vanuatu after Cyclone Pam well-prepared to deal with the threat from asbestos. Crews arrived with a lot of glue and a lot of sprayers to allow them to prevent potential exposure:
We spray (PVA) glue onto the asbestos to bond the asbestos fibres, we than wrap that asbestos in plastic and dispose of it in a proper manner.
Given the extensive damage sustained by many buildings during the cyclone, the asbestos needed to be removed immediately, a task that Bailey says crews have been on top of.
We've been going to various parts of the hospital and some primary schools… and rendering as much asbestos as safe as we can.
How to prevent asbestos exposure after a natural disaster
If asbestos-containing materials are suspected during a cleanup, as they often are where buildings have been built prior to the 1980s, experts recommend you leave them well alone. Agitating any debris containing asbestos can result in airborne fibres and exposure is highly likely.
If materials must be removed before professional help arrives, wet the fibres first so that they are less likely to become airborne, and less likely to pose risks to those attending to the site. It is also wise to wear additional protective gear, such as boots, coveralls, and gloves during removal.
The importance of asbestos awareness
While the availability of water, food, shelter and electricity are often of primary concern after a natural disaster, it is important we understand the parallel dangers caused by major storms. Natural disasters can also threaten the health of locals and rescue workers longer term, due to the often invisible exposure to asbestos and asbestos-containing products and materials.
With the news that Australian rescue teams have removed over 100 kilograms of asbestos from Port Vila Central Hospital in the wake of Cyclone Pam, comes an important reminder of the dangers of the toxic material, as well as its prominence in building materials world wide.
The news story is a warning to us all of the importance of a safe and professional clean-up after any major storm, flood or fire. It is a reminder to only disturb construction materials that must be removed and to minimise any excess breakage to prevent the release of dust and fibres into the air.
As Gary Bailey told ABC News Radio, asbestos anywhere out in the open is a dangerous thing. It's important to know how to handle the material in times of crisis.
If you or anyone you know has been adversely affected by a natural disaster and you're unsure of what to do, call Airsafe immediately on (02) 9555 9034.
Our experts can talk you through the process of how to safely contain, destroy and dispose of your emergency asbestos threat.
If you would like to support the Cyclone Pam relief effort, several organisations are collecting donations, including: