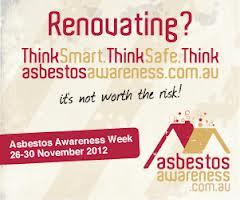 Asbestos Awareness Week happens across Australia in the last week of November every year. It's a cooperative effort between government, unions and asbestos advocacy groups.
This year, the focus of the week is on the potential asbestos risks of home renovation – a topic that's always on our minds at Airsafe. Here's a Community Service Announcement which has been produced for Asbestos Awareness Week:
Asbestos Awareness Week 2012 Community Service Announcement
Several Asbestos Awareness Week events have been scheduled in NSW, including a candlelight tribute to victims of asbestos on Tuesday evening, in which the sails of the Sydney Opera House will be lit blue to signify Asbestos Awareness.
If you can't make it to the candlelight tribute, why not use Asbestos Awareness Week to talk to someone you know about asbestos? If you know someone who's planning to renovate their house, make sure they understand the risks of asbestos, and the importance of testing and safe removal if they have any doubts.
If you need more information, you can read our article on how to test for asbestos. You can also read about the risk of asbestos in meter boxes, which has been in the news recently. And don't forget, if you think you may have found asbestos in your home or workplace, Airsafe can help.