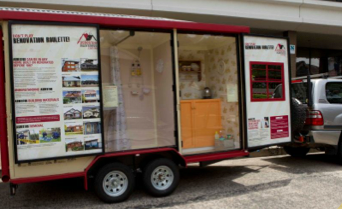 The Asbestos Diseases Research Institute have come up with a novel way to raise awareness of asbestos in the home.
They've built a mobile house, christened Betty, and they're taking her on the road around NSW. Betty is designed to show where asbestos might be found in and around an Australian home built or renovated before 1987. From the outside, she looks like a typical fibro home. Inside, there's a bathroom, kitchen, living room, garage and dog house, plus lots of audio-visual information.
Betty will be travelling to community events, council activities and DIY or renovation expos, initially in Sydney and NSW, taking the message of asbestos safety directly to homeowners:
We're urging homeowners and DIYers to play it safe… Don't play renovation roulette! If asbestos is in your home, Don't cut it! Don't drill it! Don't drop it! Don't sand it! Don't saw it! Don't scrape it! Don't scrub it! Don't dismantle it! Don't tip it! Don't waterblast it! Don't demolish it! Don't dump it!
At Airsafe, we're constantly reminding people of all the different places in the home where asbestos can be found, and of the need to take precautions, especially when renovating. So we welcome any initiative to make this message more tangible. Congratulations to the ADRI and especially to volunteers Geoff and Karen Wicks who are travelling around the countryside with Betty.
You can follow Betty's travels on her Facebook page. She's recently visited Lithgow, Forbes and Orange.
And of course, if seeing Betty makes you concerned about possible asbestos in your own home, you can always contact Airsafe for an asbestos inspection anywhere in the Sydney metro area.