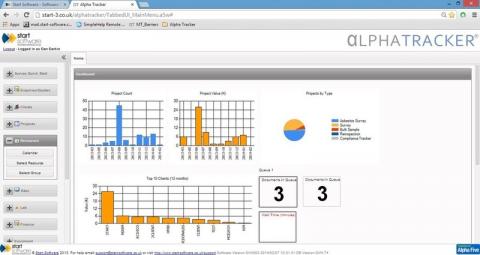 At Airsafe, we've spent a lot of time looking for ways to improve the efficiency of our processes, so we can offer our customers even better service and faster turnarounds.
In the past, our asbestos surveys and asbestos testing services have relied on paper-based processes. These could be quite laborious and often required extensive manual checking.
This has now changed thanks to Alpha Tracker, a software product developed by Start Software specifically for the asbestos industry. Alpha Tracker stores data remotely, automates many of our processes, and provides numerous benefits to clients.
Asbestos Surveys
Using Alpha Tracker's mobile app on site during asbestos surveys, photos are captured and linked to samples automatically. Matching photos with samples was previously a tedious manual process.
Even better, the Alpha Tracker system provides on-site prompts to better ensure all possible asbestos containing materials are located.
Sample Analysis
Manual systems for recording laboratory test results require a significant degree of data checking to reduce critical errors.
The Alpha Tracker system eliminates almost all transcription, and prevents conflicting information being entered in the lab, minimising the possibility of errors.
It also ensures accurate, seamless transposition of site data to the laboratory and to the final report, giving clients greater confidence in the accuracy and integrity of results.
Satisfied customers
We couldn't be happier with the support we've received from Start Software, including their willingness to customise the software to suit Airsafe's specific needs.