Our comprehensive survey identifies the following materials:
Asbestos
Lead in Paint
Synthetic Mineral Fibre
Polychlorinated Biphenyls
Organise an asbestos survey today
An asbestos and hazardous materials surveys is a necessary document for any construction project. Avoid delays by choosing a trusted name in the asbestos removal industry. Airsafe have more than 20 years of industry experience and will get the job done right, every time. If you're in a rush, we can often get an asbestos consultant on site within hours. Just call us today on (02) 9555 9034.
Our Asbestos survey process
A typical asbestos survey with Airsafe goes like this:
Our consultant will examine your details and provide a quote.
One of our fleet of inspection vehicles will be dispatched to your location, anywhere in Sydney.
Specialist consultants will take samples for testing in our NATA-Accredited lab.
The location, extent, and condition of asbestos materials is determined.
Asbestos survey reports
At the end of Airsafe's asbestos survey, you'll receive a comprehensive survey report which will contain:
An easy-to-read Executive Summary of key findings and recommendations
An outline of what the survey consisted of and the methodology used
General information about asbestos
A legally compliant Asbestos Register for the site
A detailed list of recommendations
Photographs of areas where asbestos was found, for easy identification
Laboratory reports showing results of asbestos testing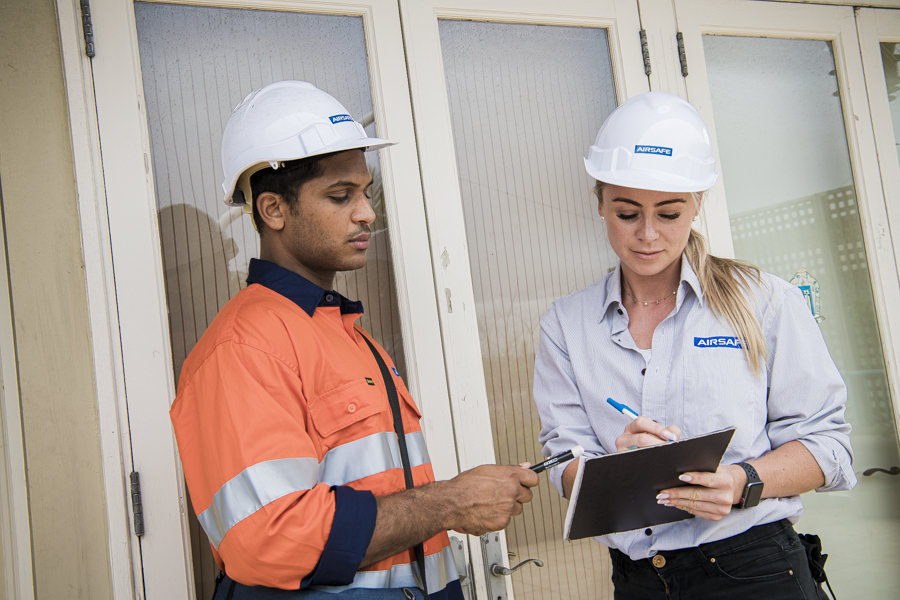 All asbestos survey reports are not the same
For more than 20 years, Airsafe has built a reputation within the asbestos industry. Our survey reports are accepted as definitive by SafeWork, local governments, and other authorities.
We don't cut corners on our surveys, and because we have our own NATA accredited laboratory, we'll test as many samples as we need to until we're satisfied that we have a complete picture of your building's asbestos containing materials.
Don't take chances with something as serious as asbestos.
Adherence to asbestos legislation
Asbestos Inspectors are recommended by WorkSafe and approved by local councils. Our asbestos inspection reports are produced in accordance with the requirements of the Work, Health and Safety Regulations 2017.
Because of Airsafe's experience and reputation, our survey reports carry real weight and authority. A report from Airsafe is regarded throughout the construction industry as proof that you've carried out due diligence around hazardous building materials like asbestos.
Asbestos surveys and asbestos registers
Increased awareness and public concern in relation to asbestos has highlighted the need for businesses to be on top of their Occupational Health, Safety & Welfare requirements. According to these conditions, all building owners in premises built up to 31 December 2003 must have an asbestos register completed to comply with regulations.
While the Acts, Regulations and Codes of Practice do vary in each state and territory, it is mandatory for all commercial properties to have an up-to-date Asbestos Register on the premises. Simply put, the asbestos register will list all the asbestos that is known to be in your workplace.
The best way for your business to complete a legally compliant Asbestos Register is to work with a company accredited for their asbestos expertise. Airsafe has two major forms of accreditation; our consultants are Licensed Asbestos Assessors, and as a company we're accredited by NATA, the National Association of Testing Authorities, for asbestos identification and fibre counting.
Detailed expert inspection: The core of an asbestos survey
The most important component of an Airsafe asbestos and hazardous materials survey or audit is a close inspection of your premises, by a trained and experienced asbestos consultant who knows what to look for.
At Airsafe, our team of consultants can help your business:
identify suspected asbestos materials and determine their level of risk
determine where asbestos is likely to be present
determine which materials may be friable or non-friable and evaluate its condition.
Your Airsafe consultant will conduct a thorough inspection of all buildings and structures, one that includes all rooms, ceiling spaces, cellars, shafts, storage and wall cavities. To err on the side of caution, we treat any suspect material as containing asbestos until we ascertain otherwise.
The Airsafe consultant will take notes and photographs throughout your inspection. These will come in handy when it comes time for us to complete your workplace's asbestos register.
Asbestos testing of samples taken during the survey
If you suspect that a material in your workplace could be asbestos, it's important to get it tested. If a sample is taken for the purpose of determining if asbestos is present, it is important that representative samples are taken. For instance, if there are variations in appearance, texture or colour of the material, we will need to take additional samples to ensure consistency and a valid analysis.
We will test for asbestos in any material that:
can't be identified
can't be accessed and is likely to contain asbestos (for example, this is often the case with downpipes)
we can't be sure does not contain asbestos.
Under the Occupational Health and Safety Regulations 2007, only accredited laboratories are approved to analyse samples containing asbestos.
At Airsafe, we have our own state-of-the-art laboratory where we analyse samples in full detail using a rigorous process and advanced testing methods using Polarised Light Microscopy (PLM) and Dispersion Staining (DS).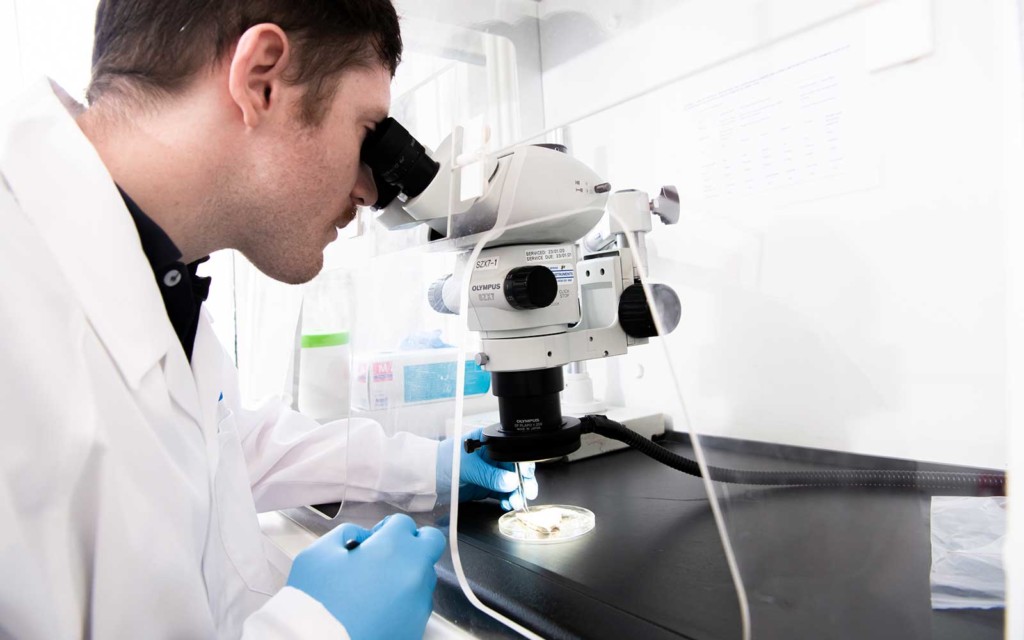 Testing for lead and other hazardous materials
As well as asbestos, we also test for a range of hazardous materials, especially lead and heavy metals.
We've greatly reduced turnaround time for this testing by using XRF Analysers — equipment that allows us to reliably determine the chemical composition of a sample on site, without causing damage or waiting for laboratory testing.
This means that if we find material that we suspect contains lead or other hazardous materials, your survey results won't be held up waiting for test results.
What are the risk factors for asbestos in the workplace?
While everyone with a building constructed up to 31 December 2003 should have an asbestos survey conducted, and an asbestos register kept if asbestos is found, two main factors affect whether a building is likely to contain asbestos:
When was the building constructed?
If your workplace was built prior to 1980, there is a high chance that asbestos was used during construction. For buildings erected after this date, the chances of finding large traces of the mineral are significantly lower.
What materials were used in the construction of the building?
Is your workplace constructed from timber, brick, steel, cement sheet or another material?
If you can see that cement sheets have been used, there is a chance it could contain asbestos fibres that have been bonded to the cement particles.
Furthermore, due to the hardiness and waterproofing qualities of asbestos, areas of the building prime to wet conditions (such as bathrooms, toilets and laundries) may contain asbestos sheeting or asbestos vinyl tiles in the walls and floors.
In some cases, pipes that run throughout the building that carry water and sewage may also contain asbestos.
Risks of asbestos exposure
Traces of asbestos can still be found Australia wide in commercial buildings, homes, schools, factories, ships, trains and automobiles. As a result, there is a chance that your workplace could contain asbestos.
Workers with a higher chance of exposure to asbestos include:
Construction workers
Firefighters
Industrial workers
Power plant workers
Shipyard workers
What happens after the asbestos survey?
What happens after your survey is completed will depend on whether asbestos is found in your premises. If no asbestos is found, we'll give you a survey report stating that your workplace is asbestos-free, and you won't need to take any further action around asbestos.
If asbestos is found, the action to be taken depends on its type, location and condition. We'll detail all this in the asbestos survey report and in the asbestos management plan that we help you create. In some cases, asbestos poses a risk and needs to be removed. Airsafe will help you plan for asbestos removal, including engaging a reputable, licensed asbestos removal contractor. We also conduct air quality monitoring during removal, to make sure asbestos fibres are not being released into the atmosphere. Finally, we're licensed to issue asbestos clearance certificates stating that the area has been inspected and is free of asbestos.
What's my next step?
If you need an asbestos and hazardous materials survey or audit for your place of business, the next step is to get in touch with Airsafe to a request a quote. You're welcome to give us a call on (02) 9555 9034 during business hours, or send us some details for a quick quote.